How to build a website in 2021
Reading Time: 6 minutes
Your website affects the way people perceive your business.
It takes 0.05 seconds for customers to judge your site, and it is the defining factor on how credible your business appears. You don't get a second chance to make a first impression. Your website needs to attract customers straight away.
Speed can make or break a website, but it is not the only secret sauce to online success. Every business needs a strong foundation to build upon, and it all starts with selecting the right tools for the job.
How do I build a website?
A Content Management System (CMS); is a platform that enables you to build and manage a website without the requirement of technical knowledge or coding.
A CMS is a perfect option for businesses who plan to post a lot of content through a blog or sharing tutorials.
It has become too easy to build a website, but which platform do you choose? There are seemingly infinite choices available, what differences should you look out for?
The answer:
There is no one-size-fits-all solution; the choice comes down to your business requirements.
Don't let that overwhelm you. We are going to help you choose the right CMS for your business and share our tips on how to improve your SEO.
Types of CMS
Free website builders
Major website building platforms offer a free plan to its users. One of the significant drawbacks to sticking with the free tier is that your page will be covered in the providers branding, which is a surefire way to show customers how committed you are to your brand.
Wix, WordPress.com, and Weebly have a reasonable free offering. It's a great way to trial each platform and build a few practice websites before you decide to commit to a paid plan.
Storage and bandwidth is another factor to take into consideration, free and even low-level plans don't offer sufficient space. Bandwidth will impact how your site performs if you start experiencing high levels of traffic.
Don't forget to design your website for mobile

Over half the population are addicted to their smartphones. It's a scary statistic, and the sad reality is that the majority of the population have a severe dependency on their mobile devices.
I'm a certified technoholic. Yes, I use my mobile way too much, but it's a powerhouse that enables me to do everything on the go.
My smartphone has:
1TB of SSD storage
12GB of RAM
8-Core CPU
These specs are better than most entry to mid-level laptops.
Why am I telling you all this? Because mobile is king. In fact, the Webmaster Trends Analyst at Google, John Mu, announced that as of March 2021, only the mobile version of your website will be indexed.
If your website is poorly designed for handheld devices, it will have detrimental effects on your business.
The need for loading speed
Think you're saving a few dollars on your hosting and CMS plan? Well, it could end up costing you more in the long run.
Your site needs to load fast and provide a great user experience from beginning to end. Slow loading times are costing online retailers $2.6 billion in lost sales every year. The average person expects a website to load in 2 seconds. In reality, the average Speed Index is 4.7 seconds for desktop and 11.4 seconds for mobile sites.
What are the best Content Management System (CMS) platforms for SEO?
WordPress
WordPress is the OpenSource leader in CMS. 31.9% of all websites on the internet are using WordPress. Unfortunately, due to this, popularity has a lot of bloat has been introduced to the platform.
Support
WordPress is regularly updated to compete with the latest trends and technology. Regular updates bring new features which are designed to help keep your website fresh and exciting.
Themes
Creating a gorgeous website has become almost too easy. WordPress provides a colossal amount of free themes that you can customise to suit your branding and tastes.
Plugins
WordPress has support for over 22,000 plugins. Do I need to say anything else? If you can't find what you are looking for from this selection, then maybe it's time to hire a developer 😉
Content Management
WordPress makes creating and uploading content a breeze. It uses a familiar interface like Microsoft Word, so you will feel right at home.
ClassicPress
ClassicPress is a great community-driven alternative to WordPress. The developers did not agree with the direction WordPress was going. As the name suggests, you can think of ClassicPress as "Classic WordPress" before the new block editor was implemented.
Long Term Support
The developers of ClassicPress are committed to providing its users backwards compatibility and long term support.
Limited Plugins
Unfortunately, this is where ClassicPress falls short. Most popular plugins continue to work with ClassicPress, however, as 3rd party plugins are outside the develops control there may come a point where they will no longer work as they have been optimised to work with WordPress's block editor.
Committed 3rd Party Developers
On the bright side, the number of high profile plugin developers are committed to the cause and ensure their plugins are ClassicPress compatible. With the popularity and support ClassicPress has garnered, this list of developers is expected to grow.
GRAV
GRAV takes a different approach to building a website. There is no installation required, all you need to do is download and extract an archive.
The main goal of GRAV is speed, which makes it a great SEO platform as it can keep up with the latest requirements of Google's search optimisation criteria.
The "best" CMS platform you've probably never heard of: Odoo

Odoo's CMS enables you to create a website out-of-the-box. It's feature-rich with the ability to design an eCommerce store, customer portal or blog with ease.
I've used various CMS platforms in the past (Wix, WordPress, Squarespace). While they are all relatively easy to use, they are not without their quirks. I felt locked into the customisation that the stock tools provided. I was never satisfied unless I paid for more expensive themes.
Odoo has my needs covered. I recommend taking the time to set up your branding colours so that you can focus on layout and design.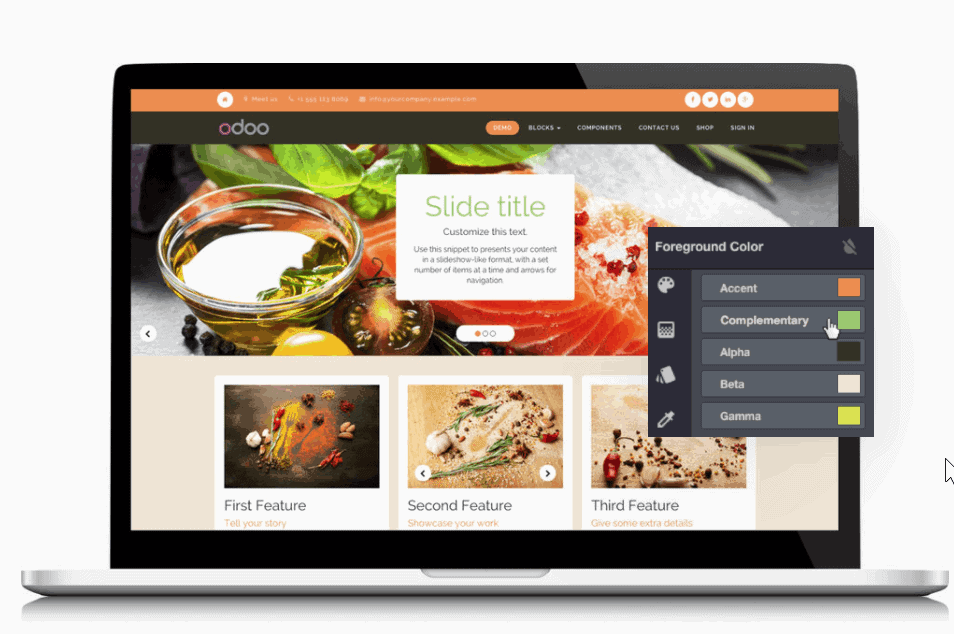 I'm not a web designer, I couldn't write one line of code if you offered me a million dollars, but I have designed various websites over the years. It's hard to take the credit when CMS platforms make it so easy to create beautiful sites.
It's not different for Odoo; all you need to do is drag & drop from the selection of elements, then populate it with images and text.
Odoo promotes its unique "edit inline" technology which allows you to edit your website with a realtime preview. A nice touch for anyone who has accidentally published a website before it was ready to go live.
Don't worry. I haven't forgotten about mobile devices.
Gone are the days of designed the same website twice, one for desktop and one for mobile. Websites built through Odoo's CMS automatically adapt to the screen size on handheld devices. Odoo claims that all the changes you make through their CMS are instantly mobile-friendly, but I always prefer to double-check. Luckily there is an option to preview how your site will look on mobile devices as well.
Why you shouldn't use Odoo
While you will never have to pay software or licensing fees to use the ERP platform, costs can quickly add up as Odoo needs to run on a dedicated or virtual server.
As a website builder, it may not be feasible for many small businesses. There are many complexities behind the scenes in Odoo that need to be set up and managed before you can jump in and start building your website.
However, if you are looking for an all-encompassing solution for your business, I highly recommend that you check out some of our other articles about the huge library of modules Odoo has to offer.
Closing thoughts
Your website leaves a lasting impression on potential customers and can be the deciding factor on whether they decide to do business with you or not. A poorly designed website will tarnish your credibility and the way people perceive your business.
A high-quality website will bring in repeat customers and result in an excellent tool for organic lead generation.
Website speed and optimisation plays a vital role in providing positive user experiences. Don't neglect your mobile site; if customers need to zoom in and out on your website, they will most likely choose a competing site that works better on their device.
Spend the time to design your website. First impressions count, so make sure you provide your visitors with a high-quality experience from beginning to end.
How can you learn more about building a website, increasing its speed or the best way to optimise your content? Contact us to book in a free consultation session with one of our web designers.
Let's build something great. Together.
Kendall King, Marketing & Sales Lead

With a degree in Writing and a Masters of Research Kendall brings a vital edge to the Velocity Host team in 2020. With fresh ideas and 10+ years of experience across a broad spectrum of businesses personas. Kendall has your business covered.