Let's discuss Odoo Discuss


Reading Time: 7 minutes
Instant Messaging (IM) is an integral part of our everyday lives, even more, due to the COVID-19 pandemic. IM brings us closer together by allowing us to connect and collaborate with people regardless of their location and helps centralise the conversation for quick reference.
A brief history of Instant Messaging
IM made a name for itself in November 1996 when Mirabilis launched ICQ, a free IM platform available to the public. Remember, this was released in a time before smartphones and mobile apps.
ICQ was a software application that you needed to install on your personal computer, laying the foundation for the IM applications we use today.
Instant Messaging Language
OMG try telling someone in the 1960's that you will BRB. They would think you are a mad man!
LOL
With the increase in popularity of IM during the 1990s, so did the rise of shorthand abbreviations and acronyms. IM shorthand became so prevalent that it is now an ingrained part of our communications to this day.
Now that we are all caught up, let's jump back into the present day.
Instant Messaging in Social Media
WhatsApp is the most popular IM application in the world. As of 2020, WhatsApp has over 1.5 billion across the globe. Facebook is a close second with 1.3 billion users. It's worth mentioned that Facebook actually owns WhatsApp essentially making Facebook the market leader in IM.
These numbers have not gone unnoticed by sales and marketing professionals. Many companies and brands have started to incorporate platforms such as Facebook Messenger into their digital marketing strategy.
These numbers demonstrate that IM is here to stay and how powerful this tool is, not only for businesses but the entire human race. A scary truth, most of my interactions are conducted through IM every day.
Tools like WhatsApp and Facebook Messenger are great, but they fall short in many areas for business. Today we are here to help you choose the best team communication IM solution for your business.
What makes a good Instant Messaging platform for business?
There is no definitive choice when it comes to team communication. Many competing IM platforms implement the same look, feel and functionality as each other.
In my opinion, there are six questions you need to ask before you commit to an IM solution.
How easy is it to collaborate with my team?
Can I organise things the way I want?
What is the data storage and privacy policy?
How easy is the interface to learn?
How much does it cost?
Can it integrate with my other business workflows and apps?
Odoo Discuss
Odoo's Discuss module combines your company's communication through instant messaging, notes, and chat. You can easily connect with your colleagues and collaborate on projects, share files and information. It is a convenient way to increase productivity when working away from the office and allows your team to maintain and build relationships with each other all through a simple web browser.
Here is a rundown of the main features of Discuss:
News Feed
If you are like me, then you are all too familiar with Facebook's News Feed. The News Feed included in Discuss follows the same principle, allowing you to view the latest discussions and keep track of the channels you follow.
You can even mark items for follow up into your inbox from any channel.
Channels
As a long time Slack user, one of my favourite features are the channels. I experienced a level of inertia when transitioning over to Odoo – which was short-lived.
The integration between Discuss and Projects takes collaborating on tasks further than the capabilities of Slack. You can add specific projects to different channels that link back to your Kanban boards inside of Odoo on each task. We noticed an improvement in the speed of project completion within the first week. When you @ tag a team member, a notification will also be sent to their email to ensure urgent tasks don't go unnoticed and these tags are added to the internal feed as well.
Unlike Slack and Teams, you're not limited to a full-screen application. There is the option to open a chat window which allows you to keep working on tasks and other modules inside of Odoo.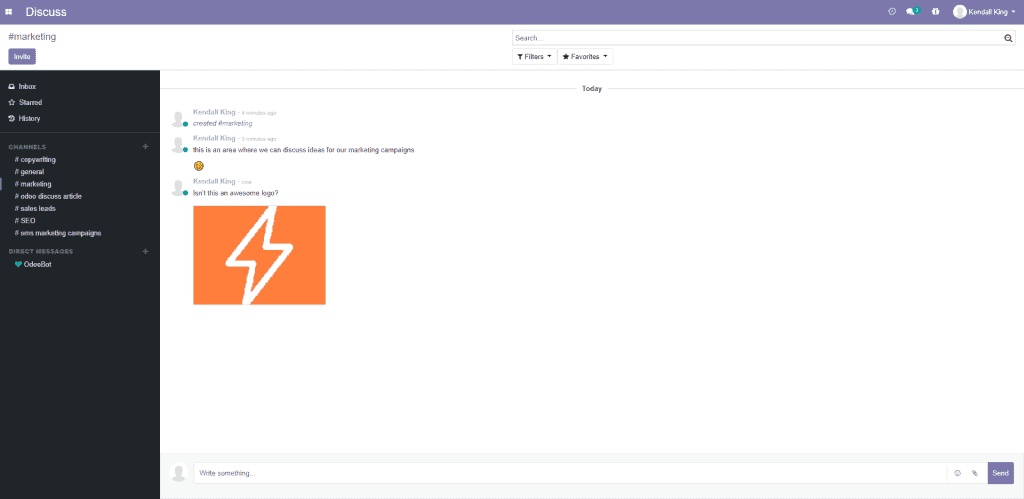 The Pros and The Cons
I could spend all day reciting marketing buzzwords about what makes one platform better than the other, but I don't operate that way. I'm going to test each platform against Odoo Discuss and conduct a side by side comparison with screenshots.
Let's get started and answer the question:
What team communication tool is best for my business?
Slack vs Odoo Discuss
After using Odoo Discuss for a 2-week test run, I noticed a few deficits.
The first and most important missing feature is the inability to conduct a video or audio call inside of Odoo. I know this could be a dealbreaker for some, however there are 3rd party applications that integrate with Odoo allowing you to conduct video and audio calls. With a quick search I've found 5 different modules ranging from free to $250, available for purchase from the Odoo marketplace.
Odoo is continuously receiving updates, and I'm hoping that we will see native video and audio calling added in a future update.
My final qualm with Discuss is the inability to comment on a comment or leave a thumbs up 👍 reaction on a specific comment.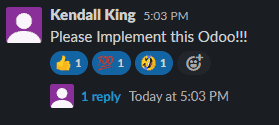 These are minor discrepancies, Odoo Community Edition is highly customisable. There is a vast library of 3rd party application for just about anything and everything. If that's not enough, there is even the option to hire a developer who can code specific features for your business needs.
Microsoft Teams vs Odoo Discuss
Teams is an excellent tool for businesses that are already heavily invested in the Microsoft 365 ecosystem. There are instant file sharing and collaboration features straight out of the box with further integration's to Planner and OneNote.
Here is a quick overview of each of the modules inside of Microsoft Teams:
Activity
The Activity module gives you an overview of all your mentions, replies and any other notifications you have received.
Chat
Chat is the IM platform, where you can send messages, share files and video/audio call any of your contacts.
Teams
Think of the Teams module as a group for specific channels. For example, if you create a Marketing 'Team' you can populate that group with channels such as; email marketing, copywriting or SEO. Inside each channel you can add more people, share documents or even integrate to a large number of Microsoft or 3rd party applications via the Tabs menu.
Tabs
Tabs is where things become very granular. For each channel you can customise which tabs are displayed. 'Posts' is the default view and acts as the IM platform for the channel. However, if you click the add a tab + icon you will have an almost endless selection of integrations that you can add to each channel. For example; if you require a Kanban board for a specific topic you can create a Microsoft Planner tab.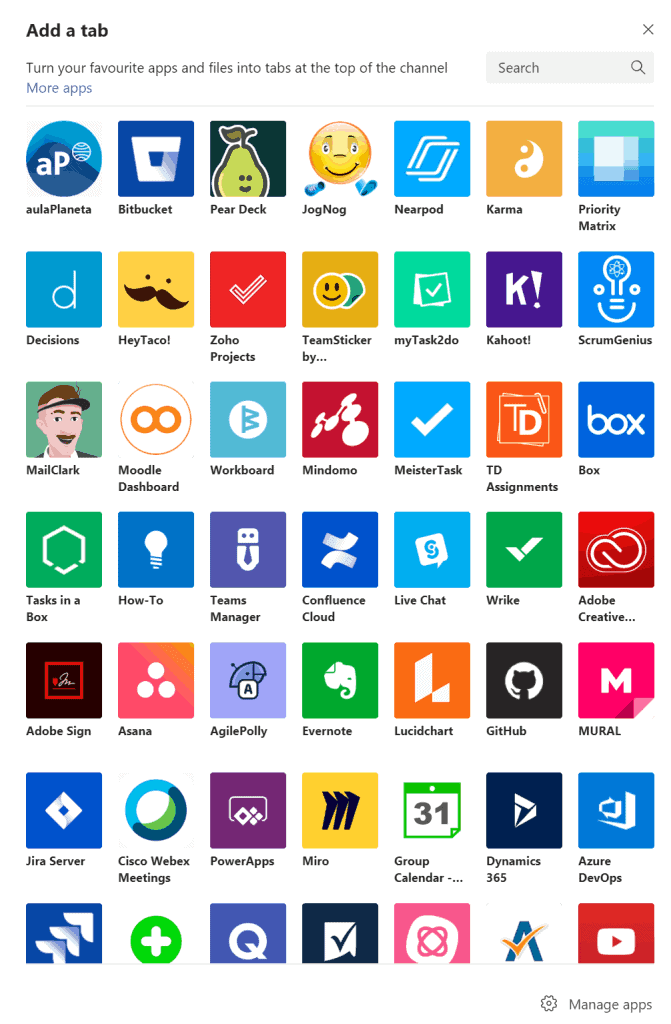 Calendar
If you are using Outlook, the calendar module inside of Teams syncs and looks almost identical. You can create new meeting requests and even 'Meet now' which will initiate a video call.
Calls
Calls is a dedicated module to.. guess what? That's right calls!
You can customise your speed dial and create groups. There is even a voicemail tab, where people can leave a message.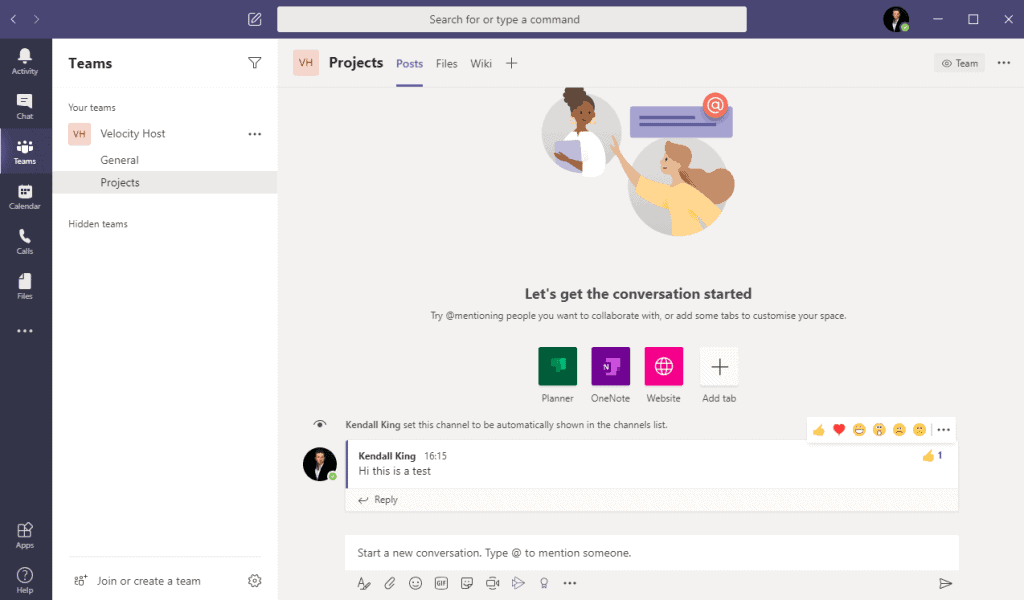 Teams is a robust tool and a no brainer if your business is already utilising Microsoft applications. There is a huge library of 3rd party apps that can integrate with teams, which allows you to customise your Teams and channels to create powerful collaborative workflows.
Bonus: Odoo Live Chat
Having a chatbot on your website will enhance your customer experience. There is also the potential to increase your sales by up to 40%.
The ability to chat with your website visitors in real-time allows you to establish direct contact instantly.
Odoo Live Chat is a simple and easy solution that you can install on your website. Visitors will see a dialogue box that allows them to reach out to your sales team. Implementing a chatbot is a quick and powerful that you can utilise to turn prospects into potential clients.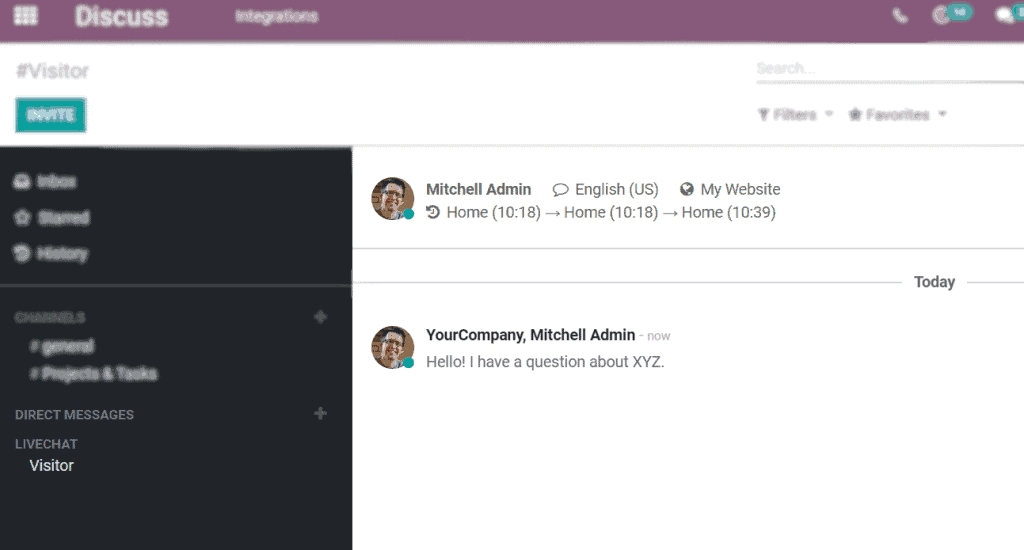 Odoo Live Chat is not only limited to converting a prospect. Using a chatbot to provide support and assistance to your existing clients will help improve customer satisfaction. Check out Odoo's quick start guide.
Odoo Discuss Features At A glance:
Team chat
Chat from inside any Odoo module
Channels & private groups
Send notifications
Integration with all Odoo modules
Instant Messaging
Channels & Private Groups
Audio /
Video Calling
3rd Party Application Support
File Sharing
Kanban
Board
Calendar
Odoo Discuss
Yes
Yes
No (requires 3rd party app integration)
Yes
Yes
Yes
Yes
Microsoft Teams
Yes
Yes
Yes
Yes
Yes
Yes
Yes
Slack
Yes
Yes
Yes
Yes
Yes
No (requires 3rd party app integration)
No (requires 3rd party app integration)
Closing thoughts
Odoo Discuss has a lot going on for itself. It's feature-rich and easy to use straight out of the box. The deep level of integration into other Odoo modules is a big selling point and speeds up the collaboration process.
If you would like to learn more about Odoo Discuss and how it could replace your current team chat, contact us today to book your free consultation session.
Reading Time: 8 minutes The numbers don't lie. Realising the potential benefits, Australian businesses invested more than $2.3bn in CRMs in 2018 alone. This is a global phenomenon, with over 91% of companies with more than 11 employees now using a CRM. The gold rush for CRM software in Australia and abroad is also…
Read More