Reading Time: 5 minutes
Email Marketing
Email marketing is one of the best marketing tools for generating ROI, this has been the case for the past ten years. On average, every dollar spent on email marketing generates $38 in ROI.
With an abundance of different marketing strategies available from a plethora of "marketing gurus" one thing we can all agree on is that email marketing is the foundation on which you need to build your marketing strategy.
Having a solid strategy in place is crucial to your success when utilising digital marketing. There are so many different tools and platforms available. If you are new to digital marketing, it can be hard to know what differentiates each platform from one another. Having a well thought out digital strategy in combination with the right tools will increase your chances of gaining the most ROI from your marketing spend.
During this article, we are going to go head to head with Odoo vs Mailchimp to see which platform is worthy of your time and investment.
Disclaimer: Even though we are an Odoo solutions provider, we have been testing Odoo to decide if we should make the switch permanent. I am going to share my experience and observations that I've noticed when using Odoo and Mailchimp side by side.
Why Email Marketing is still important
4.3 billion people are expected to actively use email every day by 2023.
Using well designed and written email campaigns will help your business to attract and retain customers. With the right software, you will be able to target different segments of your customer base and send them personalised emails to keep them engaged with your brand.
Email is 4000% more effective than Facebook and Twitter for customer acquisition.
Email marketing campaigns have a 66% conversion rate compared to social media.
Emails have 5 times the visibility than a Facebook post.
72% of consumers prefer to receive marketing materials via email, with only 17% preferring Facebook.
Odoo Email Marketing Module vs Mailchimp
Mailchimp offers a range of templates and themes. Unfortunately, you will need to upgrade to a paid plan to gain access to Mailchimp's rather small and underwhelming library.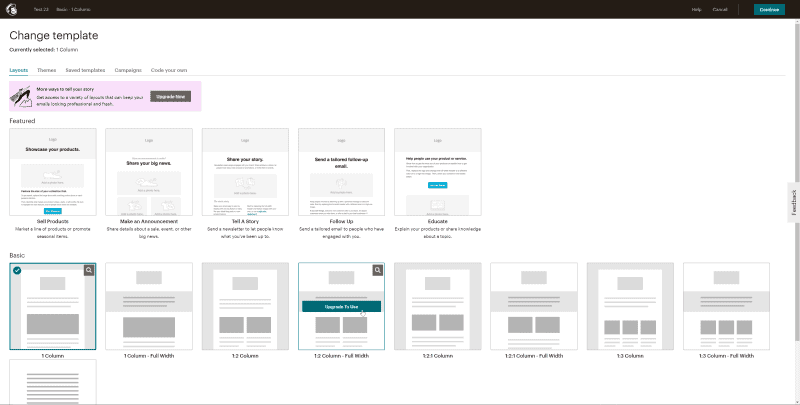 Odoo utilises drag and drop functionality similar to Mailchimp. It is quite hard to tell the difference between the two as they both look remarkably similar. Odoo feels more premium as they populate the image templates with stock photos, which is great if you want to plug and play and start sending premium looking emails.
Also, if you wish to change the text inside of Odoo, you can click on the area of text and edit it directly. In Mailchimp, you will have to click on the area of text and navigate over to the sidebar to make changes to the template.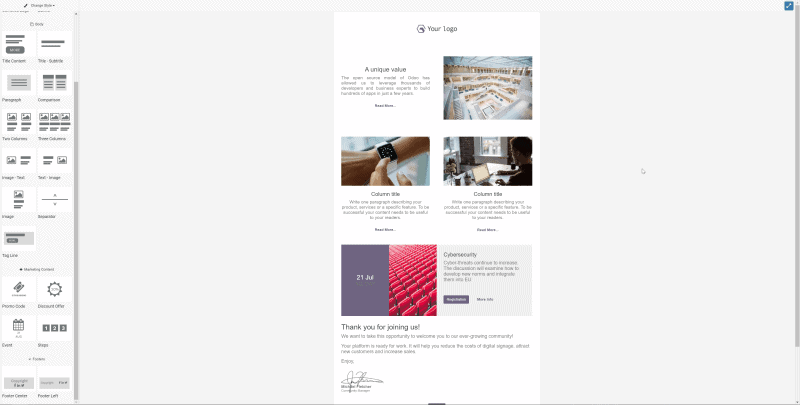 The interface to upload images, videos and links in Odoo are straightforward and accessible at the click of a button.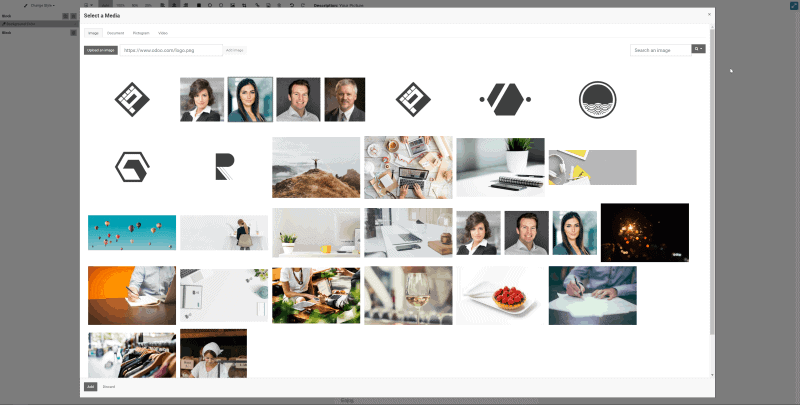 Personally, the biggest stand out feature is that the Odoo Email Marketing module is completely free to use (hosting fees aside). My favourite feature is that you can send unlimited emails to your mailing list, which also doesn't have a cap on how many contacts you can have – unlike Mail Chimp which requires a subscription fee, which can become incredibly expensive if you need to send a large quantity of emails to a lot of contacts.
In addition, the fact that it integrates seamlessly with the rest of Odoo's ERP modules is a huge bonus, which means you can have all your contacts, CRM, email marketing and mailing lists under one roof.
The only downside to Odoo is the lack of email marketing automation features in the community version.
Mailchimp includes single-step automation in its free plan, which includes features such as, welcome emails, product recommendations and date-based automations, to name a few. If you require multi-step or behaviour-based automations, you will need to upgrade to Mailchimp's Standard or Premium plan.
Due to Odoo's open source nature, for a one-off fee, you will be able to hire a developer to create custom or predefined automation features that you require for your email marketing. This IP becomes a part of your business and something that you own. With solutions like Mailchimp you are renting software which means pricing can fluctuate and changes to the UI and design can be made, unnecessarily disrupting your workflows.
If you would like to see a full comparison between Mailchimp and Odoo, you can view all of the available features here.
Import and Create Mailing Lists inside Odoo
As expected, Odoo integrates seamlessly with your contacts and CRM. If you have separate mailing lists inside of another email marketing client, you can export/import as a CSV or Excel file into Odoo.
Excel files are recommended as Odoo can automatically format the fields. I've tested this feature in-depth, and it works great at matching my excel lists accurately.
Target the right contacts
This is where things start to heat up. Mailing contacts are separate from your business contact directory inside Odoo. I think this is a good and bad thing.
Up until this point, operating and using Odoo was an intuitive and simple process. However, when it came to the mailing lists, I was frustrated that there was no simple way to bulk import contacts from the business directory.
The downside is that you will have to export your contact database to a spreadsheet and reupload them to the Email Marketing module. The upside is that this process forces you to think twice about creating targeted and accurate mailing lists.
It is important to separate your contacts into target groups and adjust your content creation accordingly. It will help you to send relevant information to the right people, helping to increase their engagement with your brand.
Tracking
Once you have setup your mailing lists and awesome content ready to go, it's time to hit SEND.
The tracking features inside of Odoo are great, giving statistical information on who has received, opened, replied or if your email bounced.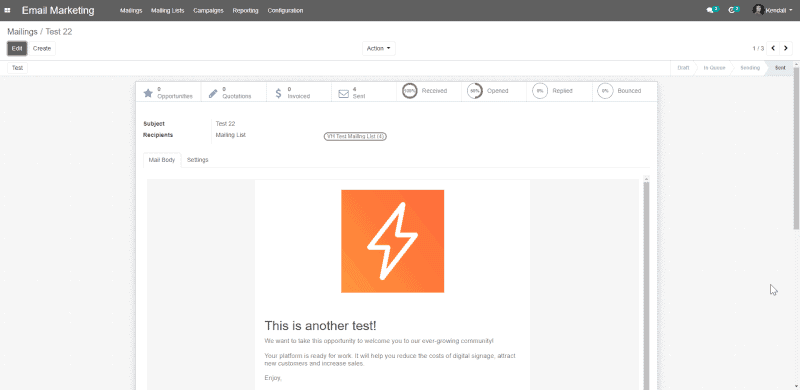 By clicking on each tab, it will give you the list of contacts. Tracking these metrics will help you to see who is engaging the most with your content. You can easily add these specific contacts into Odoo's CRM and lead them into the next stage of the sales funnel by either reaching out directly or sending more targeted marketing material.
Showing which emails have bounced is a nice touch, and it allows you to easily clean up your database and see which contacts are no longer relevant.
Overview/Conclusion
If you would like to learn more about Odoo and its Email modules, contact us today to book your free consultation session with one of our marketing experts.
If you are looking for a cost-effective, reliable email service, we also offer email hosting solutions in Australia.
Related Articles
Reading Time: 6 minutes What is Web Hosting? The short version – Web hosting is a service provided by a hosting provider that allows businesses or individuals to publish their website and content on the internet. Many content management systems (like Wix & Squarespace) provide their own managed hosting services, while the likes of…
Read More
Kendall King, Marketing & Sales Lead

With a degree in Writing and a Masters of Research Kendall brings a vital edge to the Velocity Host team in 2020. With fresh ideas and 10+ years of experience across a broad spectrum of businesses personas. Kendall has your business covered.