Reading Time: 6 minutes
Odoo Customer Relationship Management (CRM)
Customer Relationship Management (CRM) software is designed to simplify and improve interaction with your customers. As the name implies, everyone inside your organisation will have access to the CRM allowing them to better manage the relationship and keep track of potential sales, leads and opportunities.
There are many options available, some free and some paid, it can be hard to know which one to choose and how to get started.
We are going to give you an overview and our initial thoughts on Odoo's CRM. As we found it to be incredibly simple yet deceivingly powerful.
On the surface, Odoo looks like a dull and lifeless database with no pretty colours or fancy animations. No wonder it's free, I thought, but this was my first mistake. I failed to realise that Odoo is a blank canvas, waiting to be built from the ground up to suit any business need I could throw at it.
This article is not a review or an endorsement, and it won't contain any dreaded marketing drivel or buzzwords. I'm going to walk you through how I use the Odoo CRM to manage Sales Pipelines and Marketing Campaigns.
Before we get started
1. Integrations
Odoo is all about integration, and each module works seamlessly with one another.
If things didn't work straight out of the box, I probably wouldn't be writing this article. As you will see, each module talks to one another to create unified workflows inside a single platform.
2. Theming
As I stated earlier, Odoo looks dull and lifeless straight out of the box. Don't let this deter you. Odoo is exceptionally customisable and can be themed to look any way that you want, and you can even design the user interface to match your company brand.
Okay, are you ready? Let's jump into Odoo CRM!
Apps
While the focus of this article is to showcase the CRM, Sales and Marketing capabilities inside of Odoo, let's take a moment to admire the Odoo App Store. It is easy to get lost among the colourful and beautifully categorised modules. Check out the picture below for some eye candy.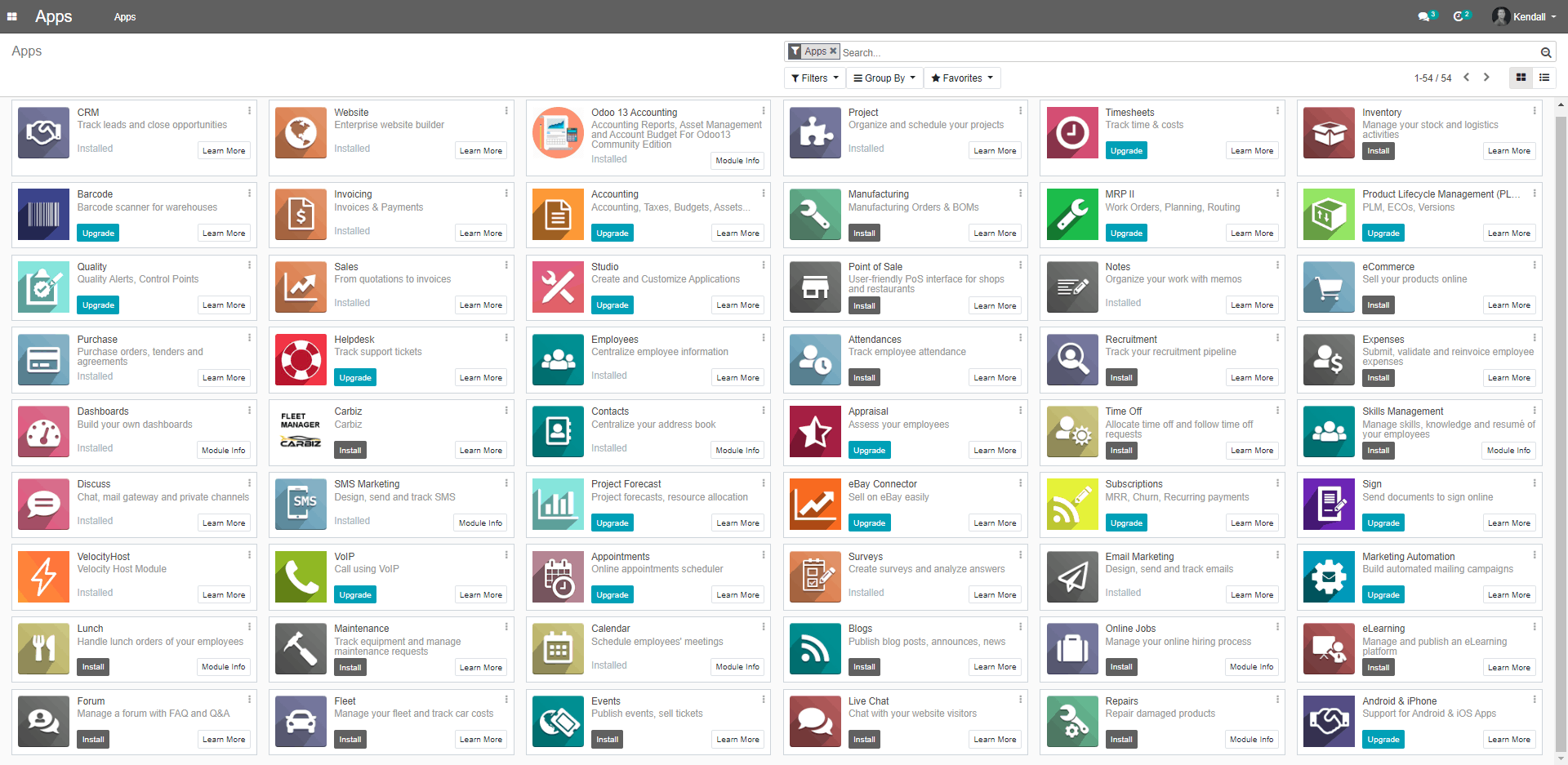 Apps provide you with two options to choose from. Install (free) and Upgrade (paid subscription).
I am not a fan of the subscription or Enterprise offerings inside of Odoo. Especially if your business needs multiple paid apps for a large number of users, the cost can quickly add up for a smaller business, Enterprise may be a good fit for larger businesses who need the added features on offer with Enterprise.
That's not to say that the modules are not excellent, they deliver what's promised on the box. However, there are alternatives to paying for subscription modules or the Enterprise version, such as hiring a developer to build a more customised solution specifically tailored to your business.
Everything I outline in this article will be 100% free (hosting and development costs aside) from the Odoo Apps module running inside the Community version.
*All I have done is installed each module and populated them with test data for this demonstration – no development or changes have been made to Odoo or the individual modules.
Contacts
Let's start from the beginning.
You can easily import your existing contact database into Odoo by selecting the Import option. Alternatively, if you are starting out, you can select Create to add a new contact.
When it comes to adding new contacts, Odoo has thought of almost everything you will need to make sure your contacts are packed full of information. One of my favourites is the ability to draw or load in your signature, which makes approving financial documents a breeze.
In the image below, you will see there are tabs in the top right corner for; opportunities, meetings, sales, invoices and vendor bills. I will outline these in more detail in the following sections, but it is essential to show you how Odoo integrates your Contacts, Sales and Financial processes right from the beginning.
CRM
I've used Salesforce, ConnectWise and a variety of indie and custom CRM platforms.
Each platform left me wanting more, there was always something missing. I found myself relying on the Microsoft Office Suite as a crutch for my works flows. Exporting customer lists to Excel and using Microsoft To-Do and Planner to organise my processes.
Maybe I'm particular, OCD or just plain right difficult. I'm sure the majority of people find these alternative tools adequate for their needs.
But I've always wanted more for less and Odoo looks promising.
The CRM is feature rich and integrates with the other modules straight away. Once an opportunity for a client has been created, you can instantly create a quotation, invoice, or add them to an email marketing list all inside of Odoo.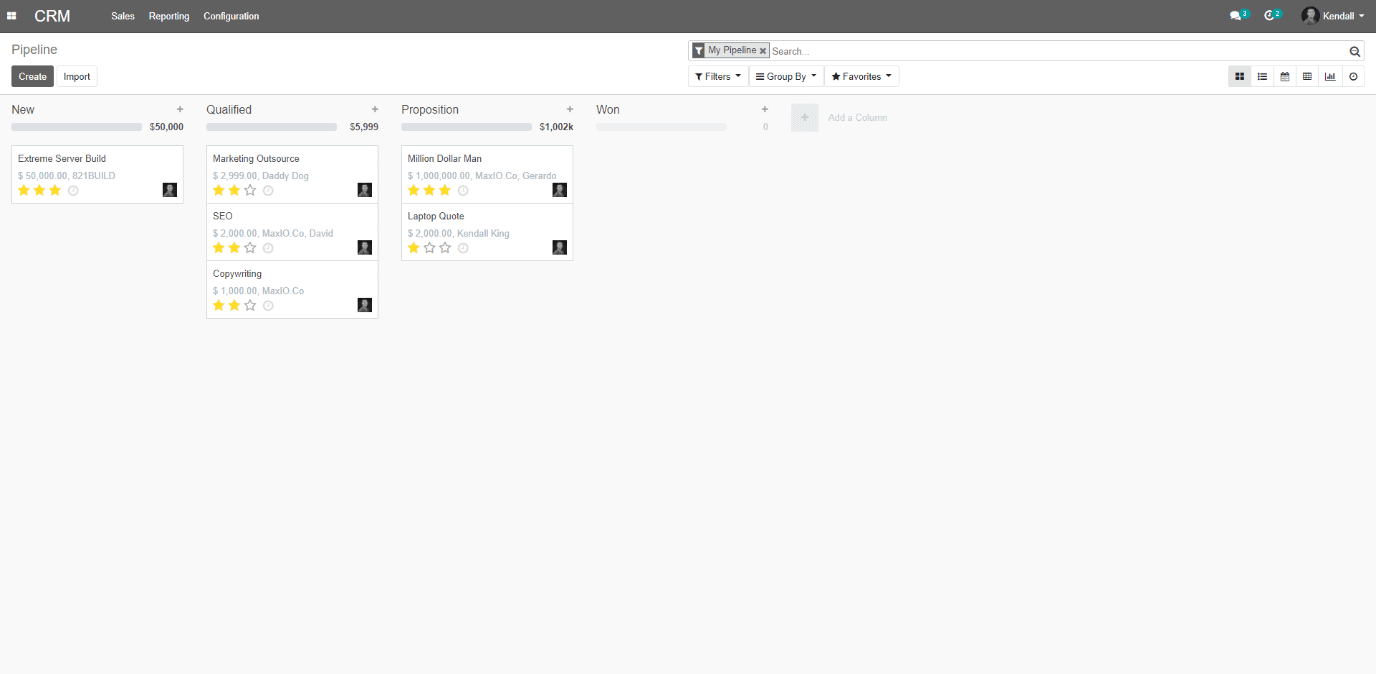 Quotations
Once you open an opportunity, you will be greeted with the following screen: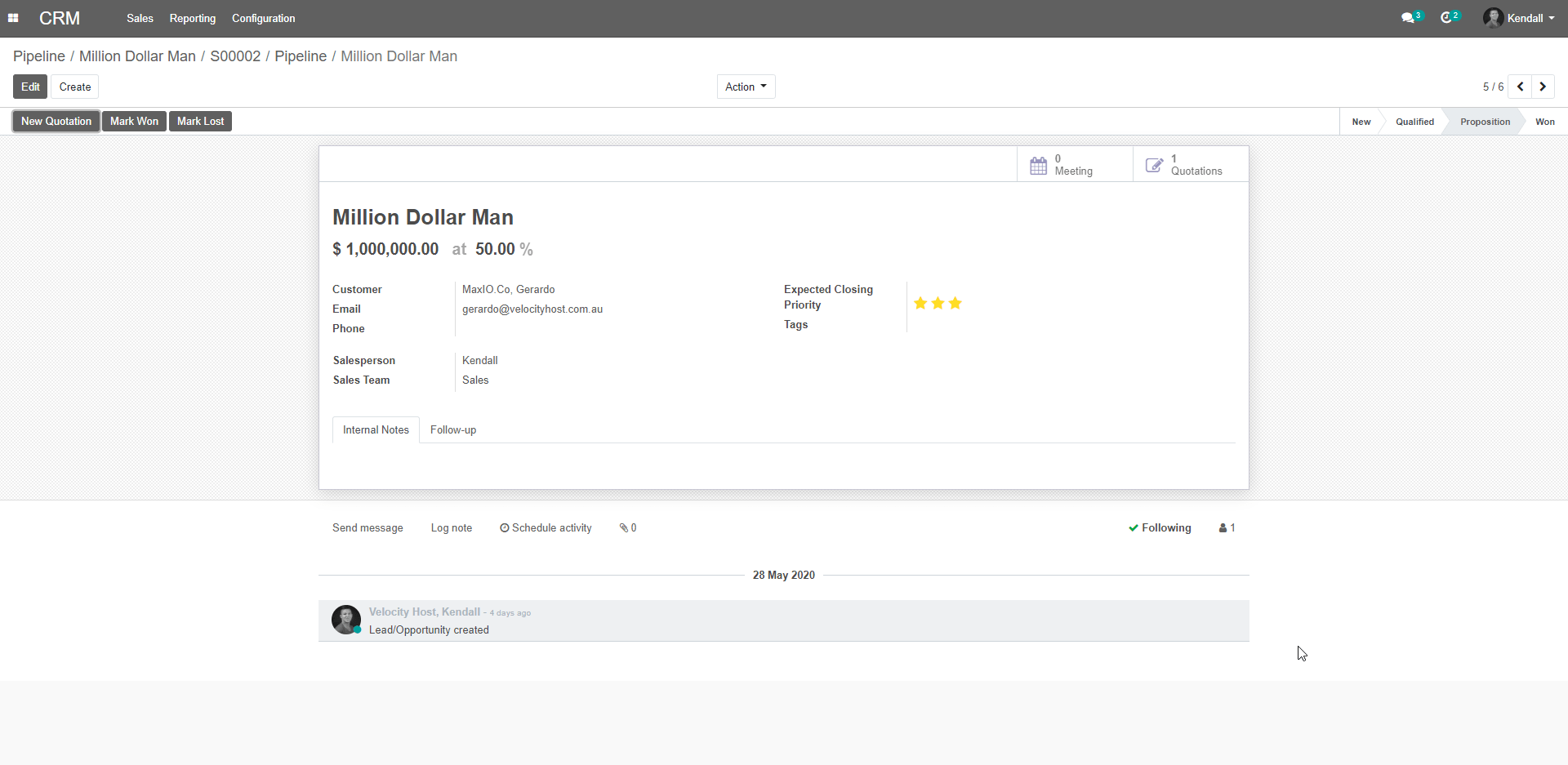 You can view all the details of the opportunity, assign a salesperson or sales team, schedule sales actions such as a follow up call, meeting or email and the ability to send quotations.
I went ahead and prepared the following quote: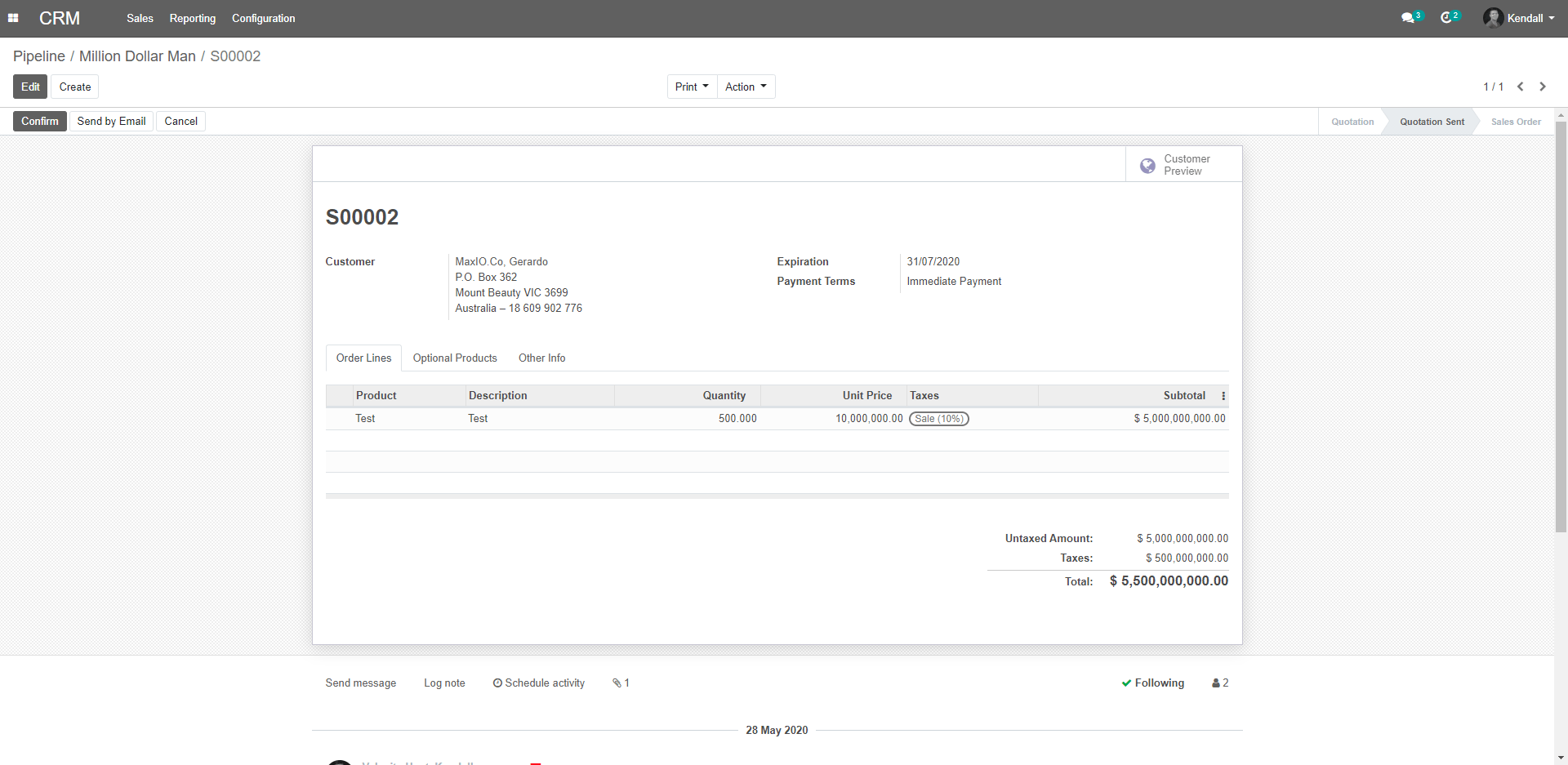 Yes, this looks very lacklustre, but fear not, you can quickly upload your logo and select from a variety of theming options, and you will have a professional quoting tool up and running in no time.
Here is my example after a few minutes of playing around: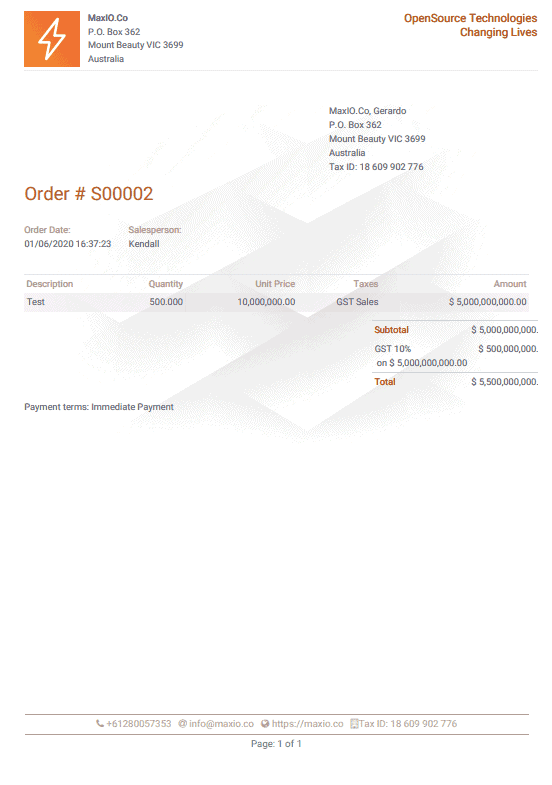 Invoicing
Inside the accounting module, you can create and send invoices.
To keep things short and sweet, it operates almost identically to the quoting tool, integrates seamlessly with your contacts, CRM and the theming stays uniform and on brand.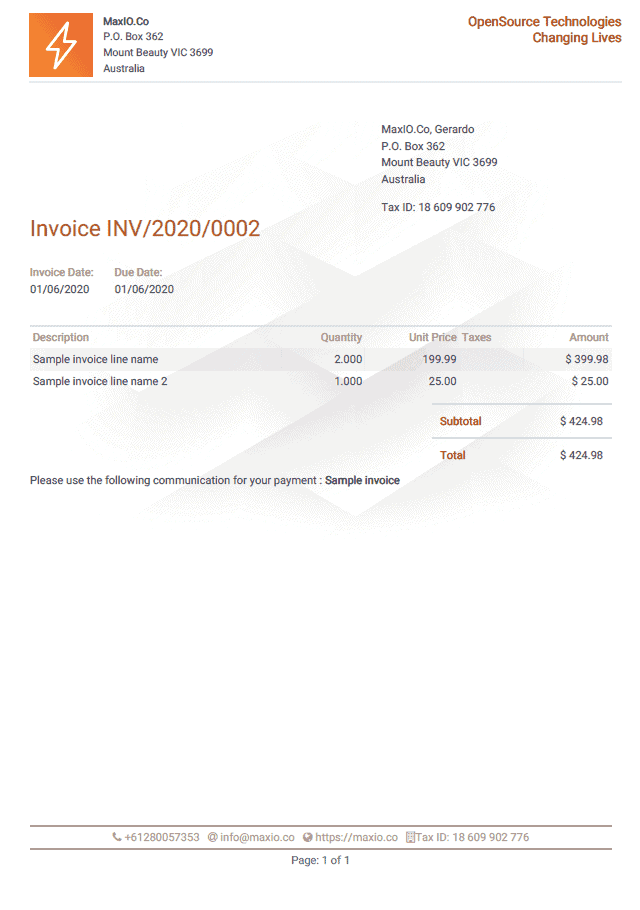 Email
Email marketing is a beast all on its own and requires a feature article. jump over to our Odoo Email Marketing article for more information, on a subsequent article we will be jumping into a more in-depth review on the topic and comparing Odoo against Mailchimp and Hubspot amongst a few others.
I'm going to be honest. The Email Marketing module did not run as smoothly as I expected. However, the problem existed between keyboard and chair (PEBKAC Error) as things become much more complicated when dealing with multiple mailing lists and importing them into the module.
Once we figured out how to import, we were able to create a demo Email Marketing campaign that looked clean and minimalistic. We stuck to the basics for this article, we dive deeper in our email marketing overview to explore the design capabilities of email marketing.
My favourite feature of this module is the quick access menu located on the top of the image below. You are provided with instant statistics on how many people have opened and received your email. There is also the ability to link the campaign to opportunities and quotations and vice versa, ensuring you are delivering relevant content to the right prospects at the right time.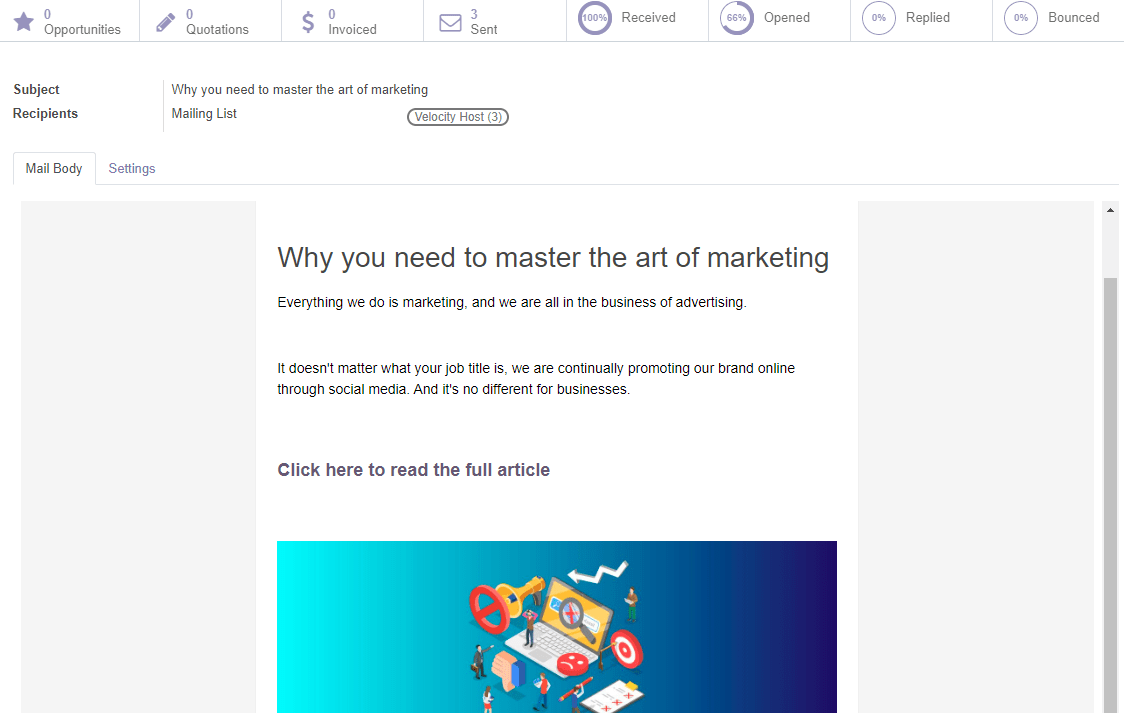 List of apps CRM integrates with out of the box:
Contacts
Sales
Discuss
Email Marketing
Invoicing
eSignature
Overall Odoo's CRM is a powerful tool for all types of businesses. Odoo is suitable for Start Ups all the way to Enterprise. With a generous amount of integration's straight out of the box, you will be hard pressed to find an alternative solution.
We have only scratched the surface on what Odoo has to offer. Make sure you subscribe to our blog to receive the latest articles on how Odoo can transform your business and create unified workflows that improve business performance, efficiency and team collaboration.
If you would like to learn more about Odoo and how your business can get started, contact us to book your free consultation with one of our Odoo experts.
Related Articles
Read about Odoo ERP
Reading Time: 8 minutes The numbers don't lie. Realising the potential benefits, Australian businesses invested more than $2.3bn in CRMs in 2018 alone. This is a global phenomenon, with over 91% of companies with more than 11 employees now using a CRM. The gold rush for CRM software in Australia and abroad is also…
Read More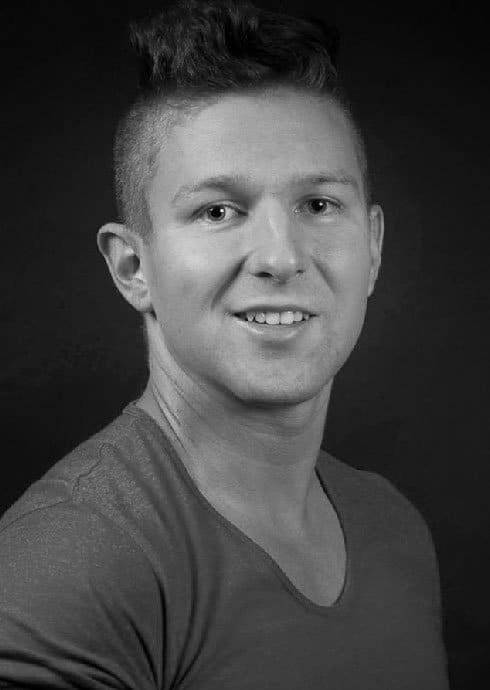 Kendall King, Marketing & Sales Lead

With a degree in Writing and a Masters of Research Kendall brings a vital edge to the Velocity Host team in 2020. With fresh ideas and 10+ years of experience across a broad spectrum of businesses personas. Kendall has your business covered.