Efficiency, Integration, Automation.
Core tools for successful business operations today.
Velocity ERP - Enterprise Resource Planning
Taking the core components of every ERP system, and boiling them down to 3 main categories that are the cornerstone of almost every business, Velocity ERP is as easy to understand as it is to use.
Our system focuses on three core areas:
CRM & Sales
Marketing & Automation
Inventory Management
And unlike a lot of our competition, we have chosen to keep our offerings focused on the task, rather than bloating them with unneeded features that look good on paper, but you will never use.
Of course, if you want to combine any two, all three, or maybe need a solution that is tailored to your unique business, we can do that too, using the same KISS design philosophy that drives everything we do.
Talk to us today to organise a demons and learn more about what VelocityERP can do for your business.
We've chosen to build our ERP system on the highly popular and flexible Odoo platform backbone, developing and expanding it to deliver an exceptional experience.
Understanding the importance of being comfortable with your tools. We provide full training and ongoing support, so you never feel out in wilderness.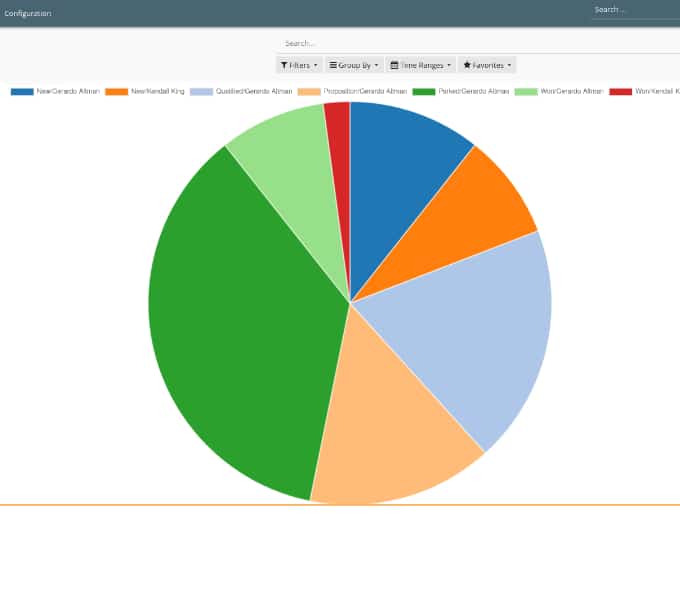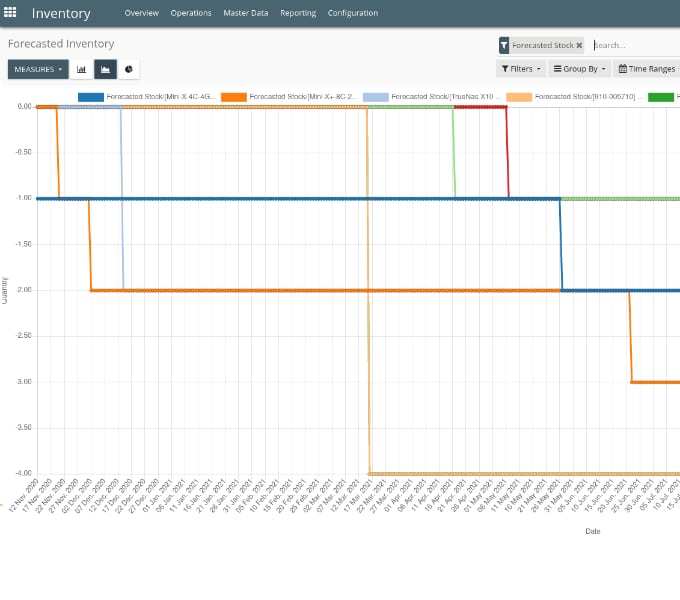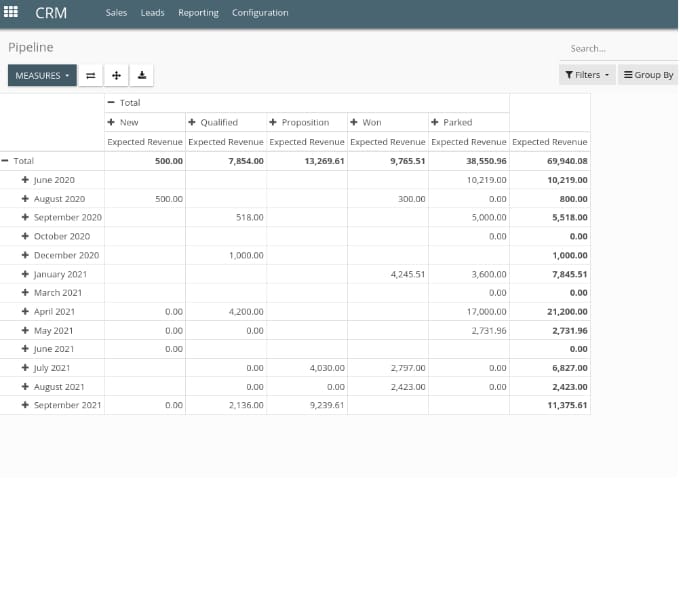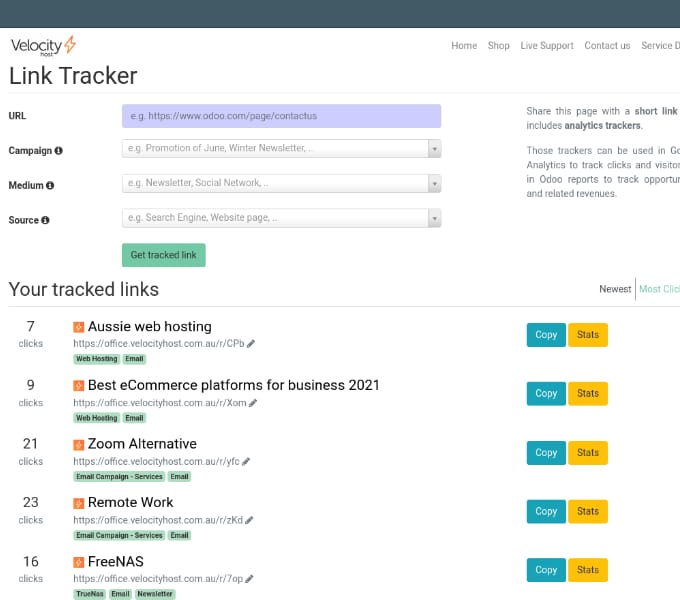 You have customers and need to manage the relationships. Built to be as simple as possible while still focusing on a solid core sets of features:
Manage customers
Sales pipelines and reprts
Quote conversion
If you're struggling to manage customer engagement then you need a CRM.
Customer Relationship Management
VelocityERP-CRM is a fully featured system, offering you business all the advanced features you need to effectively manage your customer relationships.
| | |
| --- | --- |
| Standard Features | |
| No. of Users | |
| Dashboard | |
| Contacts | |
| Calendar | |
| Notes | |
| Discuss | |
| Communication | |
| | |
| | |
Unique to velocityERP CRM
WordPress to VelocityERP CRM lead capture integration.
WHMCS to VelocityERP CRM client import
Full VelocityERP CRM Feature List
Sales
Opportunities
Customers
Reporting
Communication
Sell faster with electronic signatures.
Activities & Call Management.
Address Book
Opportunities Analysis.
Chatter
Communicate quickly and efficiently.
Pipeline management
Get a clear overview of the opportunity pipeline.
Customer Preferences.
Leads Analysis
Email GateWay
Sales warning
Meeting Scheduling

Multi-Address
Cohort Analysis
Alerts
Quotation Builder
Customize your pipeline by adding description on stages.
Full History
CRM Dashboard
Quotation Template
Plan next actions and schedule your daily work.
Email Templates
Pro-forma
Log calls or trigger VoIP calls in just a few clicks.
Upselling
Analyze lost reasons on your opportunities.
Sales Orders
Tags.
Manage Invoicing from Sales Orders
Customer Portal
Order-Specific Routes
Contracts
eSignature
Incoterms®
Product Variants
Product Types
Shipping Cost
Product Configuration
Price lists
Discounts
Third-Party Shipper
Coupons
Units of Measure
Trackable KPIs

Next Activities
Order & Invoicing Analysis

Marketing can be many things to many people so we've boiled things down to these core services:
Individual email and campaigns
Individual sms and campaigns
Surveys
All designed to be connected with automation triggers, link tracking and reporting.
VelocityERP-CRM is a fully featured system, offering you business all the advanced features you need to effectively manage your customer relationships.
| | |
| --- | --- |
| Standard Features | |
| No. of Users | |
| Dashboard | |
| Contacts | |
| Calendar | |
| Notes | |
| Discuss | |
| Communication | |
| | |
| | |
Unique to velocityERP Marketing
Survey Automation:
Automatically send an email based on survey score results
Mass Email: Resend Unopened Emails
Mass Email: Enhanced Drag/ Drop Template Creation
Full VelocityERP CRM Teature List
Design Control
Customer Lists
Mail Out
Reporting
SMS
Drag & drop editor

Use our pre-made building blocks to structure your email. Insert headers and footers, calls-to-action, images, links, snippets and many more in just a few clicks.
Opt-out

Automatically remove from your mailing list the contacts who opted out
Fully responsive

Display optimally your email on whatever screen: desktop, laptop, tablet or mobile.
Tracking links

Add a tracking code to the links within your email campaigns and get a complete view of the performances for each campaign on a dedicated dashboard.
Send SMSs to your contacts

A new action button is added to your Contacts app. With it, you can select multiple contacts and send an SMS to all of them.

Themes

Pick one of our awesome themes and change the layout of your email according to your taste without losing time starting from scratch.
Reply to

Specify an email to which the recipient can reply by clicking on the "Reply to" button from his inbox
Mail server

Set up several email servers with their own IP/domain to optimize open rates.
Measure your revenues

Follow your opportunities through Odoo CRM and analyze the conversion rate, the expected revenue and the generated revenue of each of your campaigns. Use filters for more in-depth analysis
Undelivered SMSs

Track last undelivered SMSs and get notified why they failed.
Personalize

Add your text and graphics in real-time directly within the editable content of your building blocks and get a live preview of what your email will look like.
Import contacts

Easily import your contacts to Odoo from any CSV document
Undelivered emails

Track last 24 hours undelivered emails, and get notified why they failed.
Link tracker

Share the links you want to track by creating a short link that includes analytics trackers and get a complete view of the links' performances on a dedicated dashboard.
Buy credits for SMS in-app

The SMSs you send are paid with credits that you can buy directly from the app.
Templates

Save your emails as a template and reuse them for your future campaigns.)
Create custom mailing lists

Segment your subscriber's database by assigning them to one or several mailing lists. You can also select your customers, leads or opportunities from Odoo CRM as the recipients of your campaigns.
Archive your campaigns

Keep track of all emails sent and stock them in Odoo's database
Measure your revenues

Follow your opportunities through Odoo CRM and analyze the conversion rate, the expected revenue, and the generated revenue of each of your campaigns. Use filters for more in-depth analysis.
Action Button

Actions - like approvals - are immediately available in the email notifications.
A/B testing

Send your email to a fraction of your email list.
Sample testing

Send a sample of your mailing to selected email addresses to get a preview before actually launching it to your whole mailing list.
Schedule

Select a time and date to schedule your campaign to be sent later.
Have an existing e-Commerce or physical store/warehouse in need of integrated inventory? We can connect to existing platforms like Woocommerce, Shopify, BigCommerce, or work with you to integrate into your specific solution.
Our system offers:
Stock control for single or multiple locations.
Order management.
Reporting - know whats going on with a few simple mouse clicks.
Velocity Inventory helps you becomes hand's off.
VelocityERP-Inventory is a fully featured system, offering your business, be it retail or warehouse based advanced features to effectively control all aspects of your inventory.
| | |
| --- | --- |
| Standard Features | |
| No. of Users | |
| Dashboard | |
| Contacts | |
| Calendar | |
| Notes | |
| Discuss | |
| Communication | |
| | |
| | |
Full VelocityERP Inventory Feature List
Product Control
Inventory Control
Customers
Reporting
Shipping
Minimum Stock

Have proposition of purchase orders (or request for quotations) created based on your future stock forecast.
Double Entry Inventory

The unique double entry inventory management allows full traceability from the supplier to the customer. Nothing is lost, everything is moved.
Customer Portal

Your customer can track their order status into the customer portal: orders, invoices, delivery order status, etc.
Smart Scheduler

The scheduler will trigger all operations automatically for you based on product availabilities and forecasts of orders.
Put away & Removal strategies

Define your own storage and removal strategies; fifo, nearest available zone, lifo, etc.
Scrap Products

Scrap products in just a few clicks and get clear reports on scrap: their costs, reasons and volumes.
Stock Transfers

Use the simple transfer interface to move products from one location to another.
Request for Quotations

Want to negotiate a price with suppliers every time you buy a specific product? Odoo can trigger request for quotations automatically based on future needs.
Custom Alerts

Define alerts on products or suppliers that should appear for a salesperson when they make quotations.
Pick - Pack - Ship

Design your own order process flow. Deliver to customers in one step (delivery order) or several steps: picking, packing, shipping.
Make-to-Order

Purchase raw materials or manufacture products to order. Define your own routes specific to warehouses, products, orders, etc.
Flexible

Easily manage a single inventory or a complex multi-warehouses environment by activating features on demand.
Drop-shipping

Deliver to customers straight from your supplier based on products, orders or customers.
Powerful search

Search documents to process easily. Just scan a barcode or filter based on any criteria: customer, product, etc.
Push & Pull Routes

Design your own product routes to automate transfer orders between warehouses or locations.
Serial Numbers Tracking

Tracks manufacturer lots with barcode or serial numbers. Define and choose which transactions require tracking (delivery orders, receptions, internal moves, etc.)
Inventory Adjustments

Do an inventory for a zone, a specific product, a lot or a pallet/box; vERP-Inventory prepares cycle counts for you.
Corrected posted transactions

You are now able to update any transaction (picking, manufacturing order) after being posted through the new lock/unlock button.
Multi-Warehouses

Manage all your warehouses with the same system and define replenishment rules between warehouses.
Product Types

Supports for several product types that have different behaviour: physical products, consumables, services, digital products.
Multiple Locations

Use hierarchical locations to structure your warehouse: zones, rows, shelves, etc.
Activity Log

Have the history of all operations attached to every document (picking, delivery order, quality control) for full traceability.
Cross-Docking

Unload incoming material and directly transfer to outbound gates with little to no storage in between.
Custom fields

Add as many custom fields as you want on products to handle your business needs.
Receipts

Control incoming products and compare to what was ordered from the supplier.
Dashboard

Use predefined dashboards or build your own with the advanced reporting engine. Share filters with the team
Delivery Orders

Pack orders and deliver with or without barcode scanners. vERP-Inventory prepares delivery orders for you based on availabilities.
Expiration Dates

Track expiration dates on products.
Perpetual Valuation

Get your inventory valuation posted in real time in your accounting software for an accurate balance sheet in real time.
Packing

Pack products in just a click and assign barcodes to packs for an easy tracking of the orders.
Multiple unit of measures

Supports multiple unit of measures and converts automatically for you: buy per tons and sell in kg.
Perpetual Inventory Valuation

Set up perpetual (real time, automated) or periodic inventory valuation mode by product.
Multiple barcodes

Create custom barcodes with specific codes to implement desired behaviors, such as a specific promotion.
Inventory Forecast

Get forecasts of product availabilities based on confirmed sales orders, purchase orders or manufacturing orders as well as internal moves.
Costing Methods

Supports FIFO, Average Cost (AVCO) and Standard Price for product costing methods.
Landed Costs

Reincorporate landed costs into your product cost to get an accurate valuation of your inventory.
Valuation Methods

Use continental or Anglo-Saxon accounting (to record cost of goods sold)
No two businesses are the same, and while our three ERP systems are designed to fulfill the needs of the vast majority, we also understand that your business might need more.
Combine any two, or all three, and have them deployed as a single solution:
CRM
Marketing
Inventory
Or talk to us about tailoring a solution to your business needs.
Get in touch to talk ERP!