Reading Time: 6 minutes
SMS Marketing
SMS marketing is a technique that allows businesses to send text messages to customers who have opted to receive electronic marketing material from your business. It's a great way to share promotions, discounts or even coupons to keep your customers engaged with your brand.
Is SMS Marketing worth it in 2020?
85% of consumers prefer to receive an SMS from a business over an email or phone call, with click-through and open rates outperforming email.
We are living in an age of smartphone addiction.
On average, we check our smartphones every five minutes, and this is without being alerted by a notification, research shows that we do this out of boredom.
Once you send out the campaign, your message is delivered instantly. Due to how often we check our screens, it means that you gain insights quickly.
Receiving an SMS is more intimate than an email, as it gives a sense of urgency and personalisation, which makes it an attractive avenue for many businesses. But with great power comes great responsibility, making SMS marketing a potentially risky venture.
Legality Disclaimer
Australian law states that it is illegal to send unsolicited commercial electronic messages.
If you are new to SMS or electronic marketing, here is a quick rundown of the law before we get started.
Like email marketing, you need to be responsible and make sure your business complies with Australia's Spam Act 2003 (Cwlth). The Spam Act applies to all forms of commercial electronic messaging campaigns (yes, this also includes marketing through instant messaging platforms). With an increase in deceptive and fraudulent SMS scams, many smartphone users have become suspicious of SMS marketing.
To comply with the Spam Act, each email or SMS message that you send needs to abide by the following requirements:
Consent: Before you hit send on your next electronic marketing campaign, make sure every recipient on your mailing lists has consented to receive marketing material from your business. You do not need to obtain consent from existing customers who already have an existing relationship with your business.
Identify: With the ever-rising number of cyberattacks, it is more important than ever to identify your business. Recipients need to verify your business quickly, if not, your electronic messages may get flagged as spam which can have severe impacts on the deliverability of your content.
Unsubscribe: "Please don't leave me" it's always tough letting go of potential or existing clients, but it is our right as the consumer to have the option to unsubscribe from marketing materials. Each message you send needs to contain an unsubscribe service, allowing recipients to opt-out from future messages. Your business needs to honour these unsubscribe requests in 5 business days.
Let's get one thing clear.
By including an unsubscribe function, it does not give your business the right to send unsolicited electronic messages. Woolworths was recently hit with a record breaking 1 million dollar fine for spamming customers (https://www.smh.com.au/business/companies/woolworths-hit-with-record-1-million-fine-for-spamming-customers-20200701-p557yf.html). You must always ensure you receive consent. The only exception to this rule is if you buy a list of contacts that have agreed to receive electronic messages from third parties.
SMS Marketing Benefits

SMS campaigns are a tool that can be applied at every stage of the customer journey. To be successful, you need to carry out your messaging with respect, careful strategy, and most importantly, the content needs to be relevant to the recipient. Once implemented correctly, the benefits of SMS marketing outweigh the common drawbacks of this channel.
Is email still the best and most effective marketing platform?
There are conflicting statements with experts saying that the average click-through and open rates when using SMS are much higher than email marketing.
Does this make SMS better than email marketing?
In my opinion, click-throughs don't always convert to sales. It comes down to the age-old dilemma of quantity vs quality.
What is Odoo?
In case you missed it, here is a quick one-liner to get you up to speed: Odoo is a comprehensive open-source Enterprise Resource Planning (ERP) platform. With over 30 primary modules available and more than 16,000 third party plugins and apps available, Odoo truly is a modular tool that expands with your business.
We have an entire section dedicated to Odoo, that covers a range of different modules that are useful for every business. If you are serious about implementing an SMS marketing strategy, it will be beneficial to have a read over our Odoo Email Marketing and CRM Articles as they can both be linked to the SMS Marketing modules.
Odoo's SMS Marketing Module
If you're still here, it's safe to assume you might be interested in SMS marketing.
But how do you get started?
Odoo makes it too simple. Honestly, it's too simple. If I had to write an article on Odoo's SMS marketing module alone, I'd be out of a job!
Once you have purchased credits for your account it's a simple 3 step process:
Create – simple click on the create icon inside of the SMS Marketing module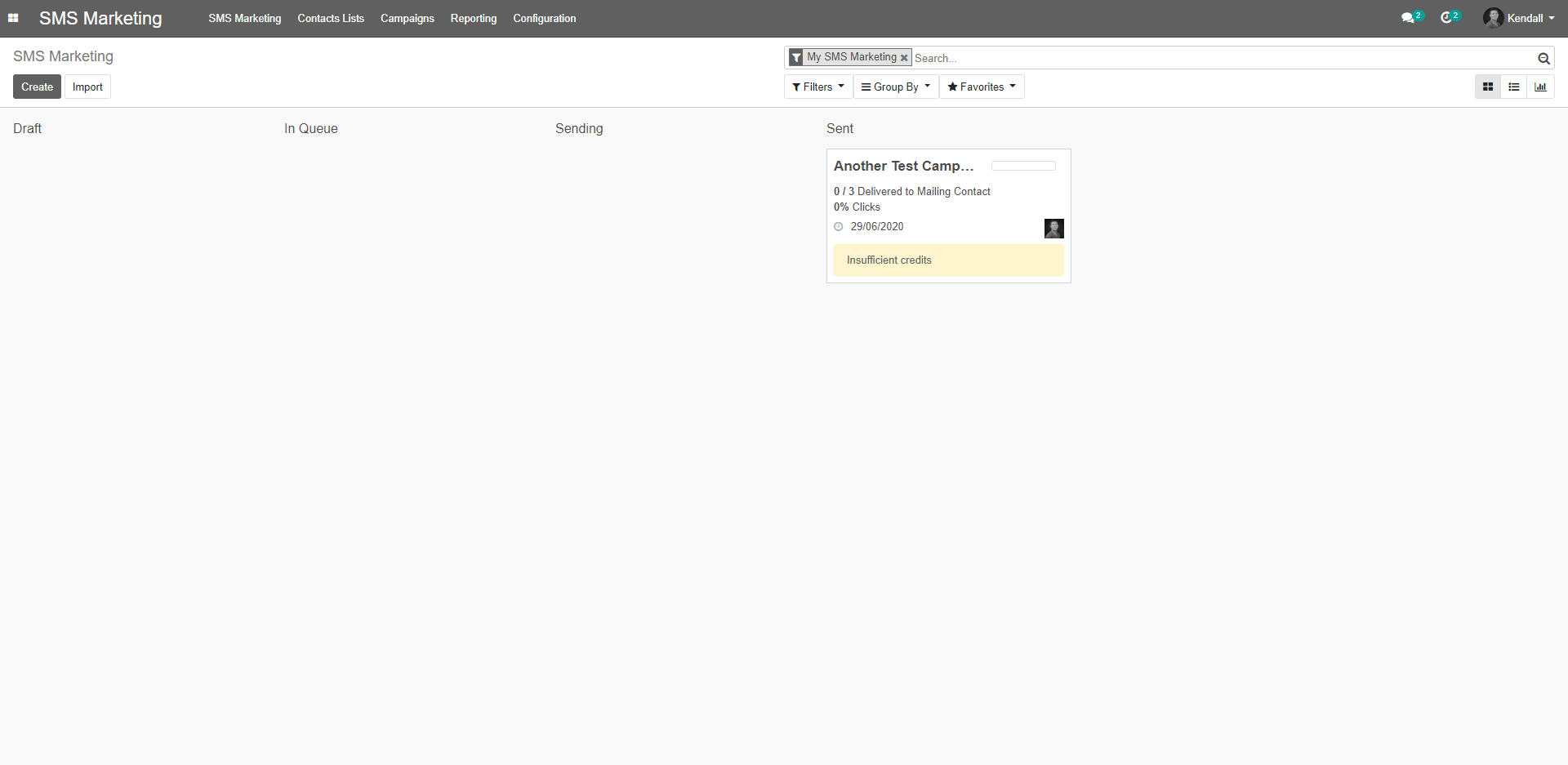 Title your campaign and write a message

Select from: Put in Queue, Send Now, Schedule or Test

That's it. Now you are ready to become an SMS marketing mogul.
SMS Marketing Strategies
Odoo simplifies SMS marketing, allowing you to create engaging and unique calls to action. Giving existing and potential customers a chance to connect with your brand, while giving you more insight into how your target audience responds to different marketing materials, allowing you to create more relevant content for future campaigns.
Remember, text messages are a personal and private space. I can't stress enough how important it is to communicate with your recipients in a personable and conversational manner.
Keep it friendly, short and add value with every SMS you send.
For example:
"Hey Gerardo. Thanks for choosing Velocity Host as your service provider. To show our gratitude, use this (CODE) to receive 25% off your next order before 30/09/2020."
Value Proposition

Mobile numbers are like currency in the marketing and sales world. You need to make it worth your customers time to have access to their personal space and subscribe to your SMS marketing list.
Here are some examples of the Do's and Don'ts of SMS marketing:
The Do's
• Giveaways – This tip is a dead giveaway (no pun intended 😉). Honestly, who doesn't love free stuff?
• Contests and prizes – Holding a contest helps people engage with your brand in a fun and memorable way. The chance of winning a free prize also sweetens the deal
• Give them an offer they can't refuse – Reward customer loyalty by offering them a discount or special pricing on selected items.
The Don'ts
• Recycle offers that can be found on your website – Phone numbers are like currency, and they should be treated as such. Exclusivity is a must when sending out your SMS messaging.
• Offer underwhelming discounts – Offering customers 3% off their next order is a sure-fire way to aggravate customers and receive a high number of 'STOP to unsubscribe requests'. Don't waste your customers time. Time is money, so treat it as such and don't be too cheap when offering discounts.
• Abuse the privilege – Having contacts subscribed to an SMS marketing list does not mean you can constantly bombard people with three text messages every day. Pretend like you are texting your crush, you don't want to come across as needy and desperate.
The main point to take away here is that SMS marketing requires you to add more value than any other platform.
Make every message count.
SMS marketing is an effective way to increase your customer engagement quickly. Don't rely solely on texting as your primary marketing channel. SMS works best in combination with a multi-level marketing strategy.
Closing Thoughts
Odoo's SMS Marketing module is a simple yet effective tool to help increase your customer engagement rates. It is important not to rely on one platform for your digital marketing strategy. It is a combination of different delivery methods, content creation and SEO.
If you would like to learn more about how you can incorporate SMS marketing into your digital strategy, contact us today to book your free consultation session with one of our marketing consultants.
Related Articles
Read about Odoo Email Marketing
Read about Odoo CRM
Reading Time: 5 minutes Feeling unappreciated is the number 1 reason customers switch to a different product or service. Outstanding customer service has never been more critical, especially during COVID-19. If anything, the pandemic has raised customer expectations. Gartner predicted in 2014 that 89% of businesses would start competing on the quality of their…
Read More
Kendall King, Marketing & Sales Lead

With a degree in Writing and a Masters of Research Kendall brings a vital edge to the Velocity Host team in 2020. With fresh ideas and 10+ years of experience across a broad spectrum of businesses personas. Kendall has your business covered.