Customer collaboration with Odoo
Reading Time: 5 minutes
Why is customer collaboration essential?
The 1950s and 1960s are often referred to as the golden age of consumerism. Products were less expensive, and businesses were able to sell their goods on a large scale using ingenious marketing campaigns – if you're interested in taking a trip down memory lane, the hit TV series Mad Men captures this era of advertising perfectly.
A lot has changed in 60 years, the market today is oversaturated with the same products and services in different packaging, and we are not as susceptible to sales and marketing gimmicks.
Now has never been a better time to be a consumer.
Customers control the way we do business. With so many options available, companies need to work harder to ensure their customer stays happy and doesn't move over to a competitor.
So how do you keep your customer happy?
In our experience, collaboration is the key.
Stop recycling your sales script and throw it in the trash

I am regularly approached by many different businesses trying to pitch their products and services to me.
What is the one thing they all have in common? They have no idea about my business.
You need to know your clients inside and out, and by collaborating with your customer, it enhances the quality of information and experience that you share with them. By demonstrating that you have the expertise and knowledge to help solve their problems and add value to their business, it makes you an integral part of their company.
How do I collaborate with my customers?

Customer service software allows you to communicate with your clients easily. Having an open dialogue with your customers increases the quality of service you can provide, and as a result, boosts the customer's confidence and satisfaction levels.
The most critical and common collaboration scenario is customer support. An experienced customer sales rep not only works with a customer to fix their problem but ensures that they are satisfied with the solution and feel reassured that any future issues can be avoided or resolved effectively.
Having online content, such as a blog or tutorial videos is a necessity. However, merely having these posted on your website is not enough anymore. These tools are there to provide general knowledge on different topics, by collaborating with your customers you can find out the root cause of their problems and providing targeted information and a solution that is tailored to their specific needs.
A customer portal allows you to modify existing documentation and solutions which can be shared with your customer. The portal will enable them to read through the documentation and test out your solution. They will have the ability to provide feedback and ideas which can be used to finalise the project to the customers' requirements.
Yes, this is an investment to set up. But instead of ad hoc collaboration over email initiated by the customer. A client portal will save the constant back and forth to your customer service reps and support team. By providing a useful collaboration tool for your clients, it will have a positive impact on your relationship with them as you have minimised the frustration and hassle that most businesses have come to expect.
Setting up a customer portal inside of Odoo
If you're not already familiar with Odoo, we highly recommend you check out our previous article. We do not receive sponsorship from Odoo in any way. We began trialling Odoo and implementing it into our workflows at the beginning of 2020, and the whole team fell in love with the platform.
We practice what we preach, so today I want to share and demonstrate to you how we set up our customer portal inside of Odoo.
The Interface
When you open the customer portal, the initial page is a straightforward interface that enables your customer to navigate through documents such as sales orders, invoice, projects and tasks.
For the sake of this demonstration, I will walk you through the odoo project management capabilities inside of the tasks section.
Keep in mind that this interface is 100% customisable. Ed Cassin, one of our incredible lead developers, customised our portal to suit Velocity Host's (that's us) workflows.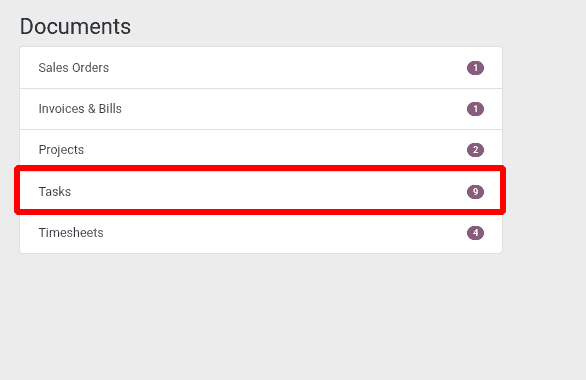 Once you are inside the Tasks menu, you will have a linear overview of outstanding and completed tasks for each project.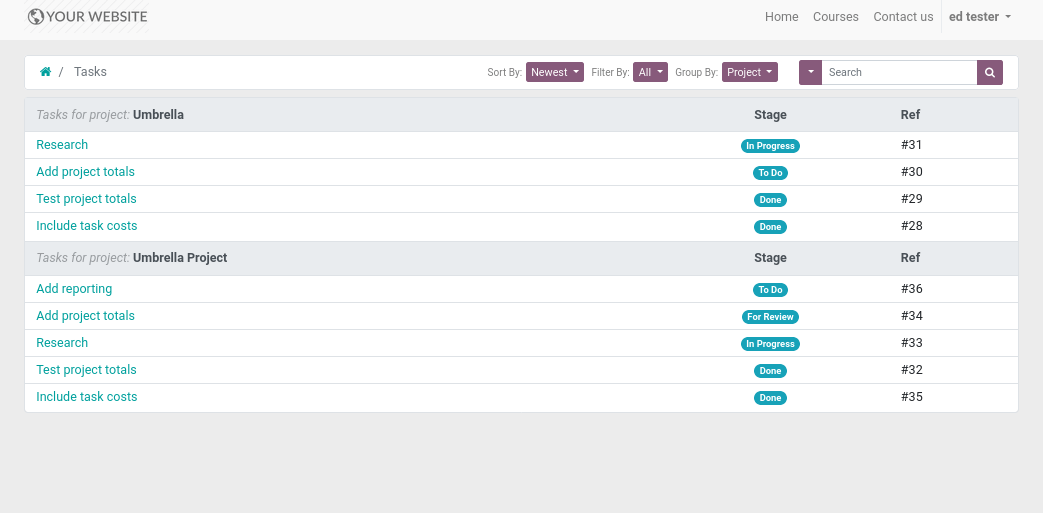 Let's dig a little deeper and navigate inside the "In Progress" Research project.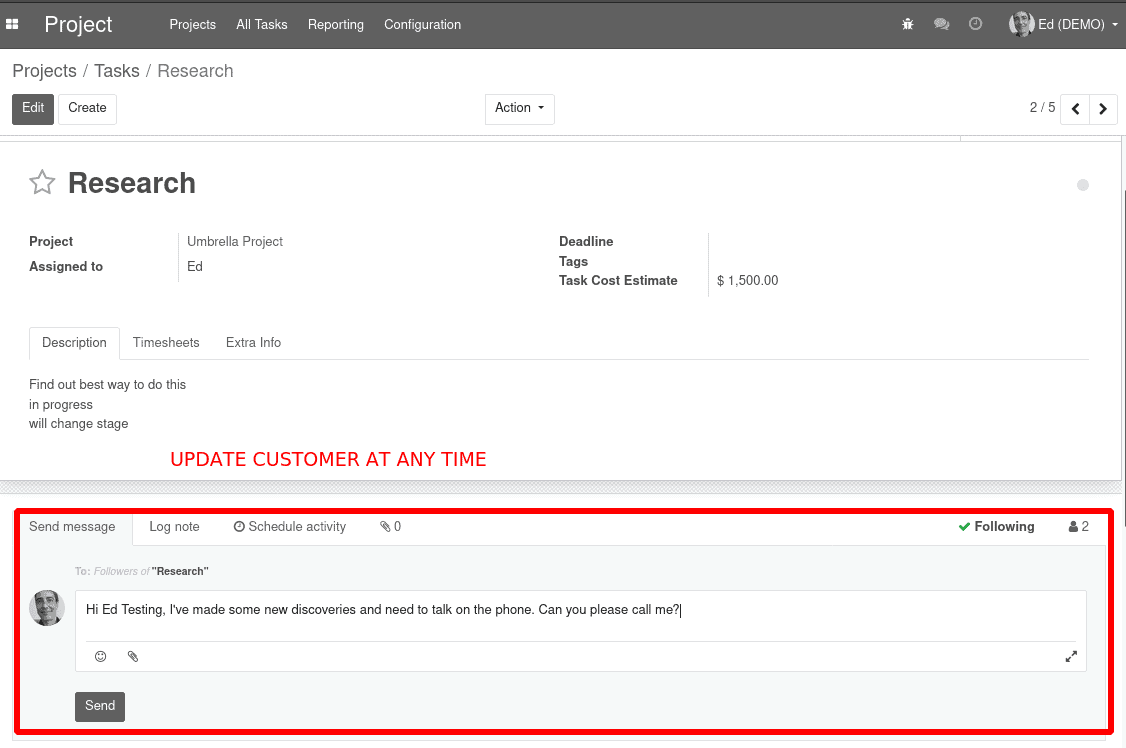 Inside each project, you can add a description, upload attachments, keep track of timesheets, record log notes and update the customer at any time.
Sending a message from the task will trigger an email notification to each member assigned to the project.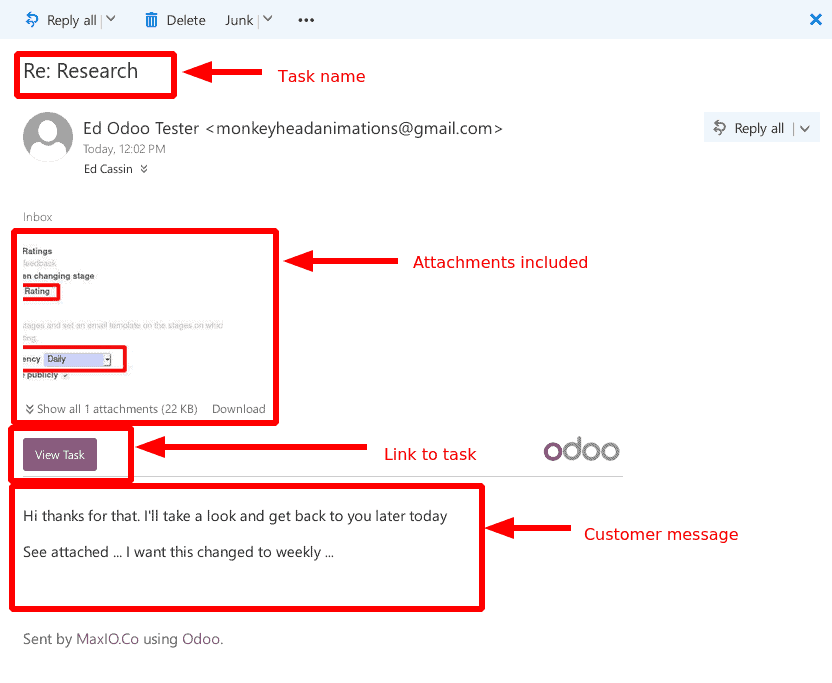 Email is still a critical tool for customer collaboration, and it's a convenient feature to receive a notification that you can quickly read or view the task inside Odoo.
You can also reply to the email directly, and it will save the message inside of the Odoo task (these comms are called "Chatter"). Removing the customers need to sign in and out of the customer portal continually. As a bonus, Odoo collects all communications and stores them inside its clean interface. If you receive hundreds of emails every day, you know how easily long conversations are buried and lost. Odoo safeguards this by storing and backing up all your data.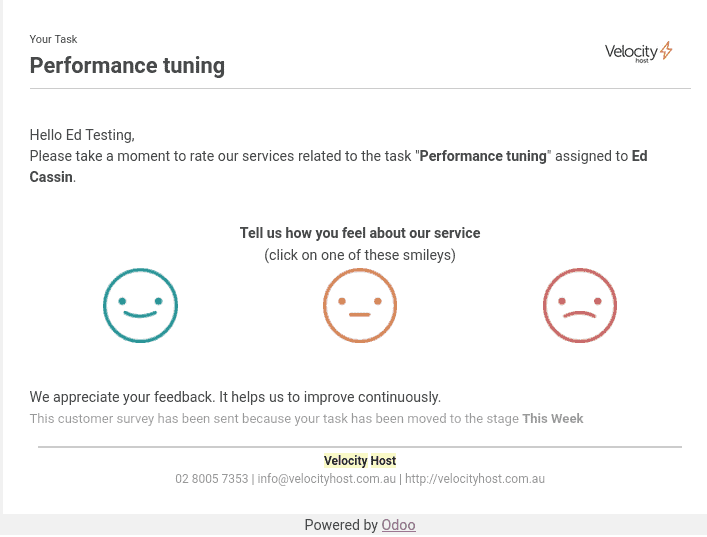 We are all familiar with the three smiley faces, and it's great to see an integrated platform inside of Odoo that allows customers to provide feedback on support tickets and completed tasks.
Constructive criticism is a powerful tool. Not only does it help improve a vendor's processes and workflows, but it's also a badge of honour and excellent marketing tool that many businesses strive to achieve. Companies with high customer satisfaction levels give you a reliable indicator that they are worth your time and money.
Closing thoughts
If you would like to learn more about how you can create a customer portal, Odoo Kanban board or if you are interested in a project management platform that will change your collaboration and workflows. Contact us today to book in a free consultation session with one of our experienced Odoo developers.
Related Articles
Read about Odoo ERP
Read about Odoo CRM
Reading Time: 5 minutes Feeling unappreciated is the number 1 reason customers switch to a different product or service. Outstanding customer service has never been more critical, especially during COVID-19. If anything, the pandemic has raised customer expectations. Gartner predicted in 2014 that 89% of businesses would start competing on the quality of their…
Read More
Kendall King, Marketing & Sales Lead

With a degree in Writing and a Masters of Research Kendall brings a vital edge to the Velocity Host team in 2020. With fresh ideas and 10+ years of experience across a broad spectrum of businesses personas. Kendall has your business covered.