Managed IT Services & Support
Reading Time: 6 minutes
What are Managed Services?
Glad you asked. Managed services are classified as ongoing support provided by an external IT provider. Many Managed Service Providers (MSP) charge a  minimum monthly cost for a set number of hours each month which can increase depending on the level of support needed and hours consumed, you'll find most providers work with 10 hour blocks on average. However, depending on the agreement in place some providers offer smaller blocks of prepaid hours for smaller businesses who's requirements are less demanding.
MSP's can deliver a range of support services ranging from proactively monitoring and maintaining your businesses IT infrastructure all the way through to help desk support on how to use specific applications along with delivering these support items within an Service Level Agreement (SLA).
The Many Benefits of Managed Services

– Cost savings
Hiring and training your own in-house IT department is not a cheap venture. Unless you're a larger business, hiring your own internal IT staff is going to cost in the vicinity of 80-150K per year per support staff member depending on if you start with a Junior engineer or are looking for one with more experience. Salaries aside, what about the hidden costs associated with hours spent managing, getting systems together and leasing or buying tools for the job. Costs really start to add up quickly.
Ask yourself, is I.T. your core business?
As a result, this can shift the business owner's burden on managing I.T. and all the previous touch points  to a company that already has these bases covered and can offer their services per hour greatly reducing in-house IT expenditure.
In today's technology centric world its normal to spend between 5-10% of your annual revenue on IT expenditure each year, some can get away with a little less and others with a little more, it really comes down to your individual business but something that's common place across every business is when you skimp on IT your business suffers.
Managed services cut down costs and free up  time allowing you to focus on growing your business.
Businesses benefit from engaging with an experienced MSP who already has a range of services offerings they manage and technologies that have been thoroughly vetted which save hours, days and even weeks of research time, the time savings  associated with MSP services allow your business to adopt technologies and services at a faster pace helping streamline your business and it's processes.
In some cases using hosted services can deliver better business outcomes and in other cases purchasing/leasing hardware may prove to be more cost effective, discussing these options with a seasoned IT provider removes the guessing associated with making these types of decisions and quickly gets your business onto the right path.
– Proven experts
Not only is hiring and training an IT team expensive, but there is also a level of risk. You might spend weeks or months training staff, only to find out they are unable to perform at the level required by your business.
Even if your IT staff know your systems and are well trained, you may find as you add new equipment and systems that they are unable to operate and maintain new infrastructure without further training.
When you partner with an MSP, you are employing a large team of experts with years of combined knowledge and experience who have a proven record of accomplishment at solving problems across various businesses.
– Risk management
MSP's have detailed industry knowledge, notably when it comes to security and compliance. By offloading these tasks externally, your MSP will help manage and reduce the risk for you, removing the headache of trying to understand something outside your area of expertise.
– High availability, efficiency, and productivity
Ask yourself. How much downtime can your business afford?
Businesses who employ managed services experience enhanced performance with little to no downtime. Even if your business does not lose millions of dollars due to an outage, it could ruin your reputation or even affect your customer's trust.
No service can guarantee 100% uptime but being proactive and partnering with a reputable MSP helps your business experience fewer service interruptions and manage them better when and if they happen.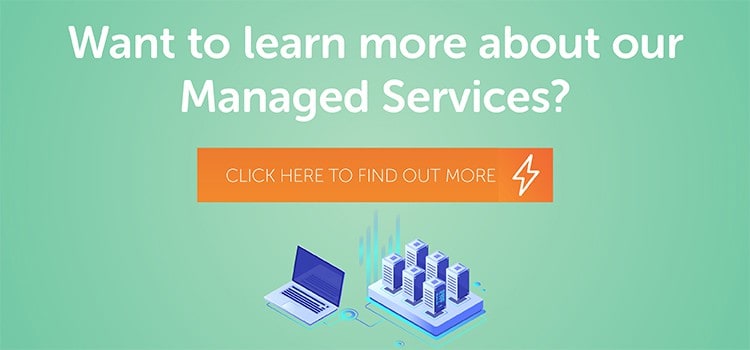 –  Preventative approach
Many businesses are still using a break/fix approach to their IT systems. With 43% of cyberattacks targeting small businesses, it has never been more important to be proactive.
MSP's monitor your systems to ensure they are running optimally and can resolve any problems before they escalate into Defcon 1.
– Current Technology
Technology is one of the highest costs in IT. The upfront price alone can be challenging for SMB's to justify. IT is not future proof; there are always upgrades and maintenance needed to ensure your business keeps operating at optimal performance.
The best part about managed services is that you have an IT business partner who cares about your business as much as you do. A trusted source you can go to for technical advice and strategy based on industry experience, a good MSP will advise that you have systems that are out dated and need replacing, keep your security at the forefront of all decisions and make sure your business keeps operating in the face of disaster.
What is included in managed IT services?

– Help desk
If something breaks during the middle of a workday, we need it fixed ASAP. An MSP can provide you're business with a dedicated Help Desk with guaranteed response times (SLA). Remote support is usually the quickest and easiest way to fix a problem, but if the task is complex, a support engineer can be sent out to your location to troubleshoot and fix the issue.
– Monitoring and maintenance
As mentioned previously, monitoring and maintaining your IT systems ensure consistent up-time. Many MSPs also provide a monthly report outlining the health status of your infrastructure.
– User management
Managing user profiles is a time-consuming part of hiring staff. An MSP has automated processes to set up new users, manage passwords, handle permission changes and even factory reset devices if an employee leaves the company.
– Security and compliance
Ransomware is growing at an alarming rate. It is a threat that affects thousands of business around the world. On average, it costs $178,000 to recover from an attack.
Ensuring your data is secure and compliant is a crucial role of your MSP. They can also implement firewalls to detect and prevent hackers from breaching your network.
– Backups and disaster recovery
What would happen if your business lost all its data?
It's a scary thought, but data loss can damage any business. Backups are a necessity but not a foolproof solution. A good MSP will discuss and offer disaster recovery as part of your service to ensure your data is backed up regularly and a fail-safe solution is implemented in case of failure so your business can be up and running as quickly as possible.
– Account management
Having a dedicated Account Manager ensures that your technology aligns with your business. An Account Manager will ensure support requests are escalated as quickly as possible, spot opportunities to improve processes and provide regular updates.
Think of your Account Manager as a concierge service who you can rely on when problems arise.
– Asset management
An MSP can help keep track of your devices by keeping a record of the following:
• Age of device
• Specs
• Installed Apps
• User details
• Location
– Documentation
MSP's create detailed documentation for every business they onboard. This enables them to provide efficient ongoing support and the ability to provide upgrades and maintenance regularly.
These include diagrams of your systems, network configurations, licensing, and password management (to name a few). You are entitled to access this documentation on request and some MSP's even provide a portal to be able to access your digital property.
MSPs are a predictable and cost-effective solution to provide IT services to your business. Is your company looking for a readily available team of IT experts to help bolster your business? Then managed services might be the solution you are looking for.
If you would like to learn more about Managed IT Services, contact us to book a free consultation with one of our Account Managers.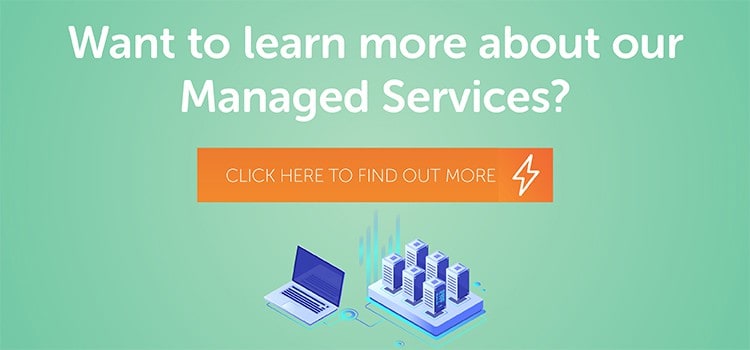 Reading Time: 5 minutes Feeling unappreciated is the number 1 reason customers switch to a different product or service. Outstanding customer service has never been more critical, especially during COVID-19. If anything, the pandemic has raised customer expectations. Gartner predicted in 2014 that 89% of businesses would start competing on the quality of their…
Read More
Kendall King, Marketing & Sales Lead

With a degree in Writing and a Masters of Research Kendall brings a vital edge to the Velocity Host team in 2020. With fresh ideas and 10+ years of experience across a broad spectrum of businesses personas. Kendall has your business covered.